'I am the police': French Muslims rally to honor police officers killed by extremist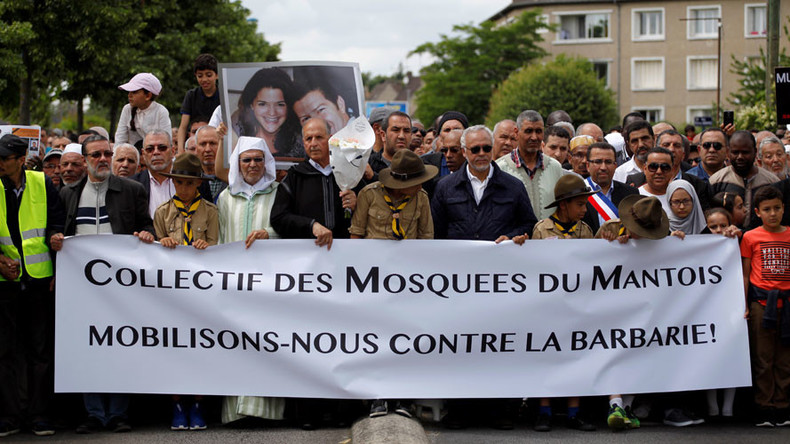 Thousands of French Muslims have joined a rally to pay tribute to two police officers killed by an extremist, who live-streamed the attack last week. The march was staged in the town of Mantes-La-Jolie, where the officers had worked.
The demonstrators approached the local police station on Sunday and applauded in honor of the victims of the attack.
According to police estimates, more than 2,500 people took part in the rally, French BFMTV reported. The organizers, however, said the demo attracted between 4,000 and 5,000 people.
Police commander Jean-Baptiste Salvaing, 42, and his partner Jessica Schneider, 36, who also worked in the police force, were killed at their home in Magnanville, 50km from Paris, on June 13. The attacker was identified as 25-year-old Larossi Abballa. He was previously convicted on terrorism-related charges. The couple's three-year-old son was taken hostage but was rescued by RAID elite police forces.
Both victims of the attack were previously stationed in Mantes-la-Jolie, not far from Magnanville, where the suspect lived.
"We are facing a crime, committed by a criminal who is neither religious nor intellectual, that is based on pure stupidity," said Abdelaziz El Jaouhari, president of the local mosque.
According to El Jaouhari, "the politicians alone do not have the solutions, nor do the Muslim community, but together maybe we can find one to stop this vicious cycle."
"The march is to say that the Muslim community has no responsibility for the crime and the barbaric acts by terrorists [and] it feels it has a duty to condemn and to take action against them," he added.
The demonstrators carried banners reading "Let us mobilize against barbarity." The banner "Je Suis la Police" (I am the police) was seen at the rally. It took on the "Je Suis Charlie" slogan of solidarity for those who were killed in Charlie Hebdo attacks back in January 2015.
"Muslims in France have absolutely nothing to do with these criminals," said Mohammed Bouaalal, a shopkeeper from a neighboring town who came to the rally with his daughters.
"Today they attack police, but tomorrow it could be us, the Muslims, who they target, as we have seen in Egypt or Yemen. Because in their eyes we are traitors who do not have the same vision of the world," he added.
READ MORE: Killer of 2 French police officers was previously sentenced on terrorism-related charges – report
According to 18-year-old Imane Remina, through this move "we show we are united against terrorists." "These monsters who just want blood at any cost," she told Le Parisien.