'We went too far': Japanese boy abandoned in woods by parents found after 6 days (VIDEO)
A seven-year-old boy abandoned by his parents in a bear-inhabited forest in Northern Japan as a punishment for misbehavior has been found alive and well after six days.
Yamato Tanooka was found Friday by a self defense forces official at a former Japanese air force base in the town of Shikabe on the northern island of Hokkaido, according to local reports.
The soldier discovered the boy on a pile of mattresses at around 7:50 a.m. when he unlocked a hut at the base some 5km (3 miles) from where the child disappeared. TV Asahi reports that the hut sometimes sits unused for months at a time between training drills.
The boy, dehydrated and hungry, was taken to a hospital in Hakodate in an apparent state of exhaustion, according to The Japan Times, but otherwise unhurt.
Tanooka went missing on Saturday after his parents left him in the grizzly bear-infested mountains of Hokkaido as a punishment, but when they returned to collect him, there was no sign of the child.
He later told police he reached the camp that same day, although he was not discovered at the site during a search there Monday morning.
"I didn't have food so I just drank water," police quoted him saying.
READ MORE: 'No business being parents': Japanese couple lambasted on Twitter for leaving son in woods
A massive search was launched to locate the boy when he was reported missing, while the boy's parents were widely lambasted for their actions.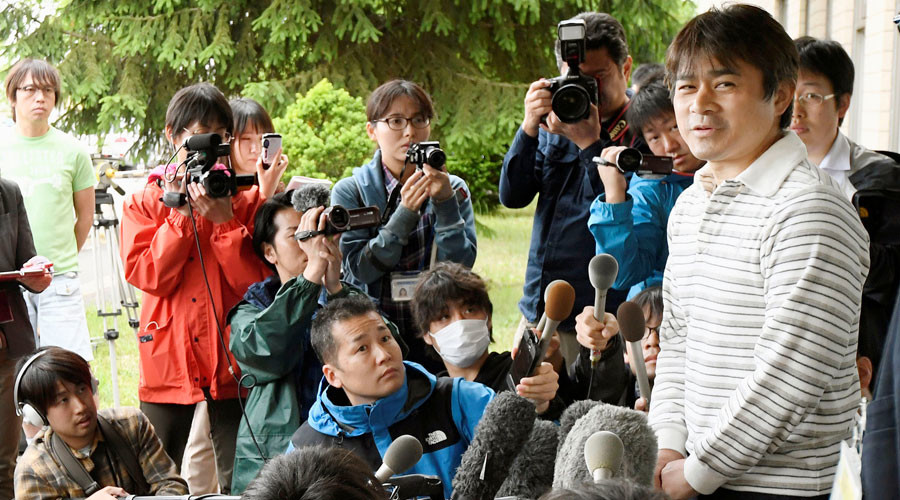 The child's father apologized to both the boy and the Japanese public after being reunited with his son at the hospital.
"I really didn't think it would come to that. We went too far," Takayuki Tanooka said."I thought we were doing it for my son's own good."
The couple admitted to police they told the boy to get out of their car on a remote mountain road to teach him a lesson after he had thrown stones at people and cars.The admission came after they originally claimed the boy had simply wandered off while picking plants.