'Why not just give her a burka?' Weather woman dress 'shaming' causes storm online (VIDEO)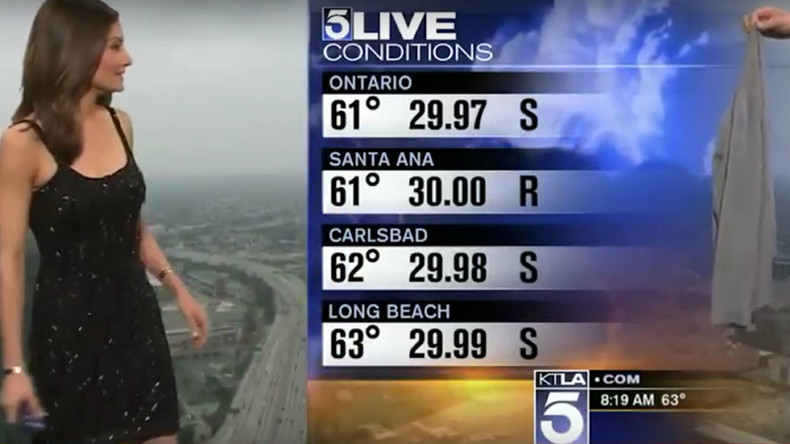 Online viewers of a US weather report have demanded reporter Liberte Chan be given a public apology after she was made to cover up her dress with a cardigan live on air.
The KTLA Channel 5 meteorologist was handed an oversized grey top by a male colleague, who indicated that Chan's choice of dress had led to "a lot of emails" of complaint on Saturday morning.
While the comment was possibly made in jest, Chan was visibly surprised by the suggestion that she cover up, commenting that the ill-fitting garment made her look like a librarian.
Chan previously posted a video of her happily dancing in the tasseled black number.
The bizarre mid-report costume change was apparently due to some viewer complaints about the sparkly dress.
"I am a regular watcher of the Saturday morning news but Liberte Chan's dress was totally inappropriate… looks like she didn't make it home from her cocktail party last night," one complainant reportedly said.
Another wrote into KTLA 5 to say: "Dear management, No doubt about it Liberte Chan's New Years Eve cocktail dress is inappropriate – that would have been true even if it was a 10:00pm broadcast. Overall I like Liberte but this was a display of very poor judgment."
However, the incident has not gone down too well online, with many people saying Chan is owed an apology after she was publicly humiliated.
Other Twitter users have mocked KTLA over the apparent kowtow to some quite conservative weather watchers.
Meanwhile, Liberte Chan has taken to Facebook to get to the bottom of the complaints, asking people if it really was "too revealing."
The general consensus seems to be a big fat 'no' with one fan saying Chan should wear "a t-shirt with a giant middle finger on it" the next time.
It's not the first time Chan's wardrobe has caught the eye. Earlier this year she was given a colleague's suit jacket after her body became in danger of melting into the green screen weather map.