7 completely crazy stories that sum up wild world of Prince (VIDEOS)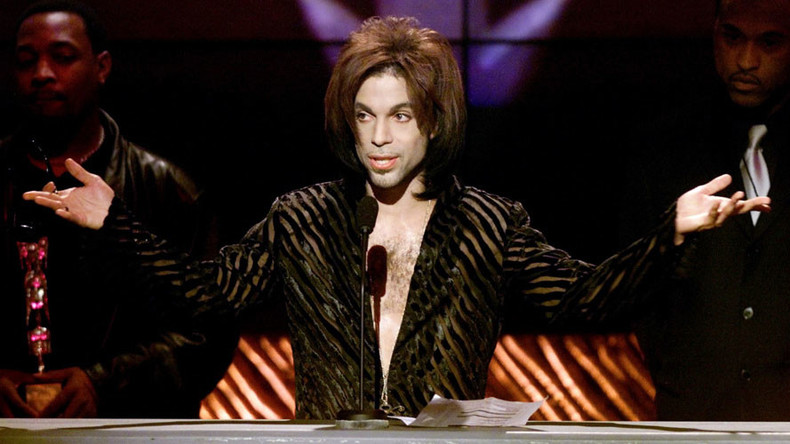 While the world mourns his passing, stories of Prince's flamboyant nature and outrageous antics give an insight into how he kept up an air of mystique while becoming a global superstar.
The death of music icon Prince has resulted in a tidal wave of tributes from fans and fellow artists.
Here are some bizarre moments that made Prince one of the most unusual and unpredictable characters to ever grace the music industry:
READ MORE: Prince found dead in studio at 57
'Prince World' and the 3 a.m. camel
The Prince documentary by Kevin Smith never quite got off the ground, but it left the American filmmaker with a couple of amazing and absurd anecdotes.
In 2002, some of Smith's bizarre interactions with the musician's staff were relayed in a Q&A. He revealed that staff told him the star couldn't comprehend demands not being met because he lived in 'Prince World'.
"Prince will come to us periodically and say things like: 'It's three in the morning in Minnesota, I really need a camel - go get it'," said Smith, recounting a conversation with one of Prince's assistants.
Epic James Brown showstopper
In 1983, Prince and Michael Jackson made a surprise stage appearance on James Brown and BB King: One Special Night.
The pair had originally been in the audience as spectators, but on the Godfather of Soul's whim one shock performance became two as Prince rode in on his bodyguard's back.
Not to be outdone by the King of Pop, Prince ended the performance topless and growling into the microphone.
Prince rejects time
In an interview with Notorious magazine back in 2000, Prince responded to questions about his youthful looks by saying he didn't believe in the concept of time.
"Your magazine probably won't print this, but I don't believe in time. I don't count. When you count, it ages you," he said.
READ MORE: Purple pain: Landmarks across globe light up in fitting Prince tributes (PHOTOS, VIDEO)
Los Angeles purple palace
While paying $70,000 a month to rent a 10-bedroom mansion in Los Angeles, Prince was sued for garishly redecorating the property without the consent of its owner.
Former NBA star Carlos Boozer's filed the complaint in January 2006 over the changes, which reportedly included a purple water fountain and 'Prince symbol' being affixed to the front gate. Boozer's former teammate Jay Williams told ESPN Prince had also turned the master bedroom into a hair salon. Prince later kept the peace with a huge wad of cash.
Shooting hoops Prince style
Do you remember the Dave Chappelle Show skit where the 'Purple One' shoots hoops with comedians Eddie and Charlie Murphy? Well it is based on a true story.
Murphy tells the surreal moment he was invited to play Basketball against Prince and his backing band The Revolution. "I learned something that day, never judge a book by its cover. This cat could ball, man," Murphy explained in this hilarious sketch.
Prince becomes a symbol
A master of flamboyancy, Prince struck out against his record label's 'ownership' of his name and work as only he could - by becoming an unpronounceable symbol.
By 1993, he had grown tired of the rigid record label structures to which he had been tied since the late '70s, having released every one of his studio albums under Warner Bros.
Dubbed the 'Love Symbol' - a mashup of gender signs - the sign led to a new moniker: 'The Artist Formerly Known as Prince'. He would later call the decision an 'emancipation'.
"The company own the name Prince and all related music marketed under Prince. I became merely a pawn used to produce money for Warner Bros," he said.
Tall tour demands
Selling millions of records worldwide means you can pretty much request anything, which is probably why stories of Prince's outrageous tour demands are so damn plausible.
In 2011, The Sun reported that the icon demanded a personalised purple chalet be built for his appearance at Hop Farm Music Festival. It's also stated he wanted a limo to drive him the 25 meters from dressing room to stage.
Other weird requests included a 'no stairs' rule at hotels for his 2014 tour.