Yellowstone National Park in danger of being 'loved to death'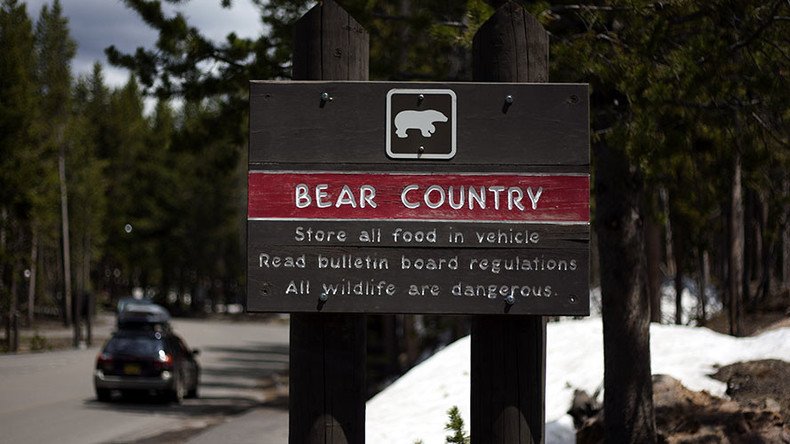 The balance between tourism and preservation is putting Yellowstone in danger of being "loved to death", according to the May issue of National Geographic, which is "dedicated entirely to America's first national park".
David Quammen told NPR that wildlife is struggling to cope with the increased number of human visitors, now at four million per year, and the development of private land in and around the 3,500 sq mile (9065 sq km) park.
Situated in the western US across three states, Montana, Wyoming and Idaho, migration routes for its native residents such as grizzly bears, elk, and bison are under threat.
Clearly, Rupert Murdoch's majority ownership of his company's new joint venture with the iconic magazine has not affected its editorial policy (yet).
The issue's focus on the negative consequences of land privatization is contrary to the Fox News Channel's role as one of the "biggest cheerleaders… of Cliven Bundy's anti-government land ownership agenda".
Quammen interviewed biologists who said if private lands on the Yellowstone's periphery become residential suburbs and shopping malls, thousands of wild elk, the park's most abundant herbivores, will not be able to migrate in and out of the park each year.
Elk play a vital role in the Yellowstone's food chain with the park's grizzly bears preying on calves.
The park has signs posted throughout instructing visitors to keep their distance from elk, but tourists eager to Instagram don't always heed the warning.
Chinese tourists account for the recent surge of visitors, increasing their annual spending in the US from $4 billion to $21 billion over the past seven years.
Owners of Big Gun Fun, a shooting range in West Yellowstone, Montana, told the Bozeman Daily Chronicle that Chinese visitors now make up roughly 80 percent of their summer business.
"It's a famous place," 33-year-old chemistry professor Xuequian Kong said. "People all around the world know Yellowstone. Many people in China like to come here if they get the chance."
When created in 1872, Yellowstone was not intended as a wildlife attraction for tourists, but rather for its canyons, 10,000 hot springs, and 200 geysers including Old Faithful, which erupts every 40 to 70 minutes.
Park superintendent Horace Albright attempted to attract humans to the park for its wildlife spectacle starting in 1919, a decision that took decades to repair.
Setting up garbage dumps around the park to attract bears and guarantee a view for tourists, Albright got the grizzlies hooked on high-calorie human food, leading to lots of ruined tents, vehicles, and family picnics.
READ MORE: Twitter condemns 'selfish & brain dead' selfie posers after death of baby dolphin (VIDEO)

The dumps were eventually closed and the bears were put on the endangered list in 1975 after too many were killed for being a threat to humans.
Now, bear prevention measures are stressed by park staff and signage.
While Yellowstone's bison population is safe inside the park, those who wander beyond its man-made boundaries face slaughter with 9,000 killed since 1985.
Powerful cattle ranchers fear the beautiful beasts will spread brucellosis to their herd and shoot the indiscriminately including bulls and calves, even pregnant bison cows in their last trimester are the only ones who can become infected.
They are forced outside the park in winter months in search of food, but they have slowly been getting their revenge on human vehicles, who stand little chance in a collision.
You can share this story on social media: