Cirque du hypocrisy: Companies boycotting NC do plenty of business in anti-LGBT countries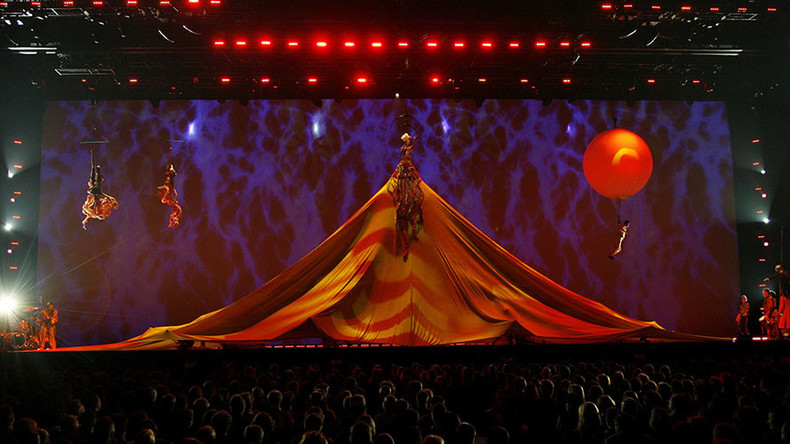 Cirque du Soleil faces accusations of hypocrisy after canceling its upcoming shows in North Carolina to boycott the state's new "transphobic" law, but not its upcoming shows in the United Arab Emirates, where homosexuality is punishable by death.
READ MORE: North Carolina blocks local transgender anti-discrimination laws
Institutions in the southern US state are now allowed to openly discriminate against individuals based on sexual orientation and will require transgender people use bathrooms in relation to the gender stated on their birth certificate.
The beloved circus is now being called "hypocritical" on social media and some right-wing media outlets for failing to extend its boycott to Dubai, where the show Varekai will perform this September.
Cirque du Soleil cancels North Carolina show over bathroom law but plans show in Dubai where gays are put to death. #hypocrites

— Harry Tucker (@HarryTucker) April 17, 2016
"Cirque du Soleil believes in equality for all. It is a principle that guides us with both our employees and our customers. We behave as change agents to reach our ultimate goal of making a better world with our actions and our productions." the company said in a statement about the North Carolina decision.
The Quebec-based troupe brought Michael Jackson: The Immortal Tour, Dralion, Alegria, and Quidam to UAE in previous years despite its LGBT laws and even considered a permanent residency.
The government-controlled developer behind the palm-shaped islands project bought a 20 percent stake in Cirque in 2008, but last year, a private-equity group from Texas purchased a 90 percent stake along with Chinese and Canadian companies.
Other brands like PayPal canceled a $3.6 million investment in North Carolina, which would have created hundreds of jobs for a new global operations center, even though it generates millions of dollars in profit from Dubai's online payments since 2012.
So, let me get this straight, it's OK for them, Springsteen and paypal deciding they don't want to do business... https://t.co/baBQpQNo77

— anthony neiger (@anthonyneiger) April 16, 2016
Comedian Ellen DeGeneres commented on the Mississippi and North Carolina laws during a recent episode of her TV eponymous program...
...partied it up in Dubai with her wife Portia de Rossi last year.
@TheEllenShow@ellentube how was your trip to Dubai? Looks like you were having fun despite the death penlty for being gay thing Hypocrite.

— hydralica (@hydralicaquapon) April 8, 2016
Other NC boycotters like General Electric, Pepsi, and Choice Hotels have all remained silent on their presence in UAE.
READ MORE: Amnesty slams UAE as 'deeply repressive state beneath facade of glamour'
Mississippi native Harlan Vaughn, who visited the UAE with his boyfriend, didn't experience any problems, but was still cautious during his stay.
"Being in the UAE was the first time where I really felt that it was illegal to be myself," he wrote in a blog post. "It was a new feeling, but I knew I was in the territory by choice and had to abide by their national laws."
The website"Boycott UAE" calls for the Emirates to be held accountable for torturing, imprisoning, and violating the rights of expatriates living in the country.
.@Disney threatened boycott of filming in GA but shot most of Star Wars in UAE where BEING gay is a crime punishable by DEATH #HB757#gapol

— United Tea Party GA (@UTPGA) March 30, 2016
Most gay people living and working in the UAE are forced to keep their sexuality private due to a fear of losing their jobs and being deported.
In an article for Gay Star News, one expat told the website, she was "nervous about other colleagues from conservative backgrounds finding out," and hid her relationship.
Cops in Dubai working undercover in chat rooms to bust gay men for trying to hook up online: http://tr.im/KObm

— Yvan Greenberg (@whygreenberg) January 18, 2010
You can share this story on social media: