North Carolina blocks local transgender anti-discrimination laws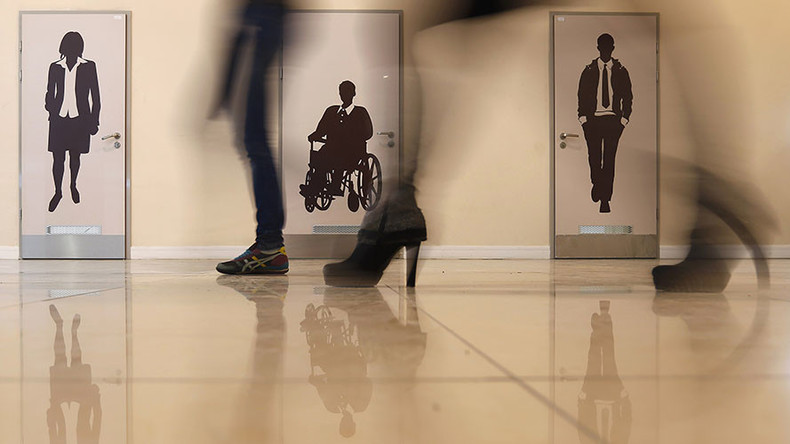 The Republican governor of North Carolina signed into law a preemption bill that blocks local governments from making their own rules against gender and sexual discrimination.
On Wednesday, House Bill 2 passed in North Carolina's House of Representatives with a vote of 83-25, with 12 Democrats crossing the aisle to join every Republican with a "yes" vote. Within 10 hours, the bill was approved in the Senate 32-0, after all the Democrats walked out of the chamber in protest.
"We choose not to participate in this farce," said Senate Minority Leader Dan Blue of Raleigh after he left the Senate building, according to AP.
Governor Pat McCrory signed the legislation into law later in the day.
While the legislature wasn't set to meet until late April, state GOP leaders were prompted to schedule a one-day session because of a city ordinance in Charlotte that had been scheduled to take effect April 1. That ordinance would have made it illegal to discriminate against lesbian, gay, bisexual and transgender (LGBT) people in housing and in public accommodations, such as restrooms.
House Bill 2 blocks such ordinances, mandating that all employment, wages and public accommodations measures by local governments be superseded by state law. It also restricts public bathrooms and locker rooms to people with the corresponding biological sex.
Transgender people who had their birth certificate changed would not be affected, however.
Supporters of the preemption bill argue that the Charlotte ordinance ‒ and others like it ‒ would allow any man to enter a woman's bathroom or locker room just by identifying himself as transgender.
"The basic expectation of privacy in the most personal of settings, a restroom or locker room, for each gender was violated by government overreach and intrusion by the mayor and city council of Charlotte," McCrory said in a statement. "This new government regulation defies common sense and basic community norms by allowing, for example, a man to use a woman's bathroom, shower or locker room."
Despite every single Democrat walking off of the Senate floor, McCrory said in his statement that the legislation passed with a "bipartisan majority," perhaps referring to the dozen Democrats who supported the bill in the House.
Critics of the legislation say that the local laws need to be in place to protect LGBT people from discrimination in public areas such as restaurants and hotels.
"This is really not about bathrooms," said Democratic Representative Rodney Moore, according to the Los Angeles Times. "This is about fear."
Charlotte Mayor Jennifer Roberts, a Democrat who threw her weight behind the city's anti-discrimination measure, said that the state legislature's new law appalls her.
"The General Assembly is on the wrong side of progress. It is on the wrong side of history," Roberts said in a statement.
McCrory's Wednesday's signing of the bill marks the first time a state has passed a law preventing transgender people from entering public bathrooms corresponding to their adopted gender identity. South Dakota's legislature attempted to pass a similar law only to have it vetoed earlier this month, and a Tennessee transgender bathroom bill failed to pass the state House on Tuesday.
You can share this story on social media: