Fearless climber scales world's tallest church in nail-biting footage (VIDEO)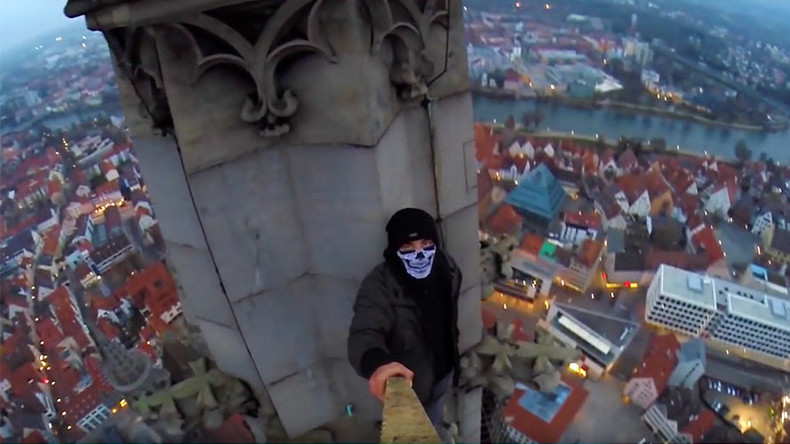 A daredevil has risked life and limb by scaling the tallest church in the world, using only the structure's century-old gargoyles for support.
The Ulm Münster in Germany dates back to the 14th century, so death during a free-climb up its 161-meter (528ft) tower is likely just a loose piece of masonry away.
But a member of Grave Yard Kidz - an urban climbing crew based in south Germany - has filmed a death-defying ascent of the building as part of an ongoing craze known as 'roofing'.
Footage from the stunt shows the climber sneaking into the church under the cover of darkness. He then begins the journey up the 768 steps to an eagle's nest where things begin to get very dicey.
The masked climber leaves the safety of the viewing platform to climb the church's 126-year-old steeple.
The video is not for the faint-hearted, as the daredevil can be seen standing precariously on a stone gargoyle with no safety equipment to prevent a fall. The hair-raising stunt was filmed back in February, but only published on Sunday.
READ MORE: 'It hit my hand!': Tourist's jaw-dropping near miss with airplane (VIDEO)
"This tower, which I climbed a few weeks ago, is the highest church spire in the world. During the climb I didn't damage anything," the masked man posted on his crew's Youtube page.
"They didn't even notice I was up there."
Despite the name, the urban roofing craze does not mean providing cover for a building, but rather the act of filming extremely dangerous climbs without a rope or harness.
Grave Yard Kidz have published a number of dizzying climbs online, including members balancing on skyscrapers in Frankfurt and reaching the top of a massive 256-meter (840ft) crane.