Filmed from within: Terrifying video shows moments tornado rips through house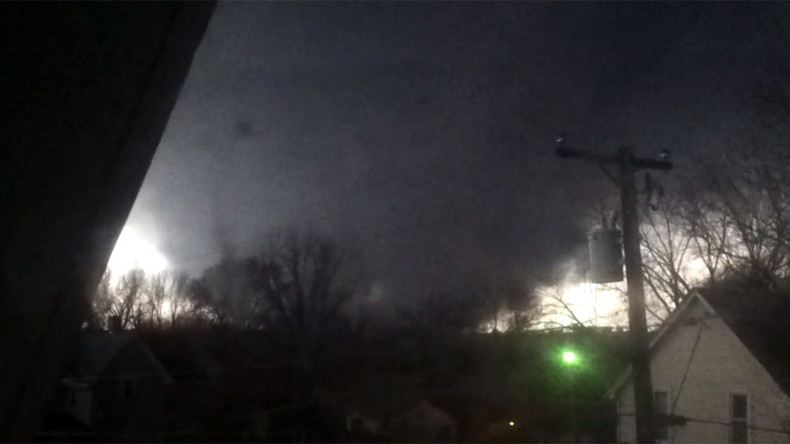 Terrifying first-hand footage has surfaced of a tornado that ripped through the house of an elderly couple in Illinois, severely injuring the man holding the camera and killing his wife and a neighbor.
Clem Schultz had his Fairdale house destroyed by a tornado on April 9, 2015 but he also lost his wife of 25 years in the storm.
As the one year anniversary of passing of Geraldine Schultz approaches, video of the tragic moments have surfaced, as filmed by Mr. Schultz.
The video shows the tornado approaching the house from the distance, with the sky getting steadily darker before the tornado eventually rips through the Schultz family home, at which point the video goes black but audio continues to record.
In an interview with the Daily Herald, the 85-year-old explained how he knew there would be a power outage due to the tornado so he went upstairs to fetch some camping lanterns, leaving his wife, Geraldine, down stairs.
"My wife called me in the kitchen. She said, 'Look out the window.' And sure enough I looked out - we see this big, ugly tornado coming," he told ABC News. "It looked like it was going to miss us."
Presuming as such, Mr. Shultz decided to film it on his cellphone from the second floor window, but alas the tornado had other plans.
The tornado moved so fast that Mr. Schultz did not have time to go back downstairs to his wife as it literally ripped through the house.
"I was standing next to the chimney when the whole place went down," said Shultz, who ended up buried in the rubble.
"All of a sudden it kind of got quiet," remembered Shultz.
Neighbors helped Schultz out from underneath the rubble, suffering crushed vertebrae in the fall, but the tragedy didn't end there as one of them told him: "Don't look down because your wife is under you, and she's dead."
One of Schultz's neighbors, and Geraldine's very close friend, Jacqueline Klosa, were also killed in the tornado, with a plaque being erected in a local park on Saturday in their memory.
Schultz has said he offered the video to a meteorology student to use in his PhD studies on the internal structure of tornadoes and will also be shown at an upcoming international atmospheric science convention in California.
"I'm proud of it," Schultz said of the footage. "My video is saving lives."