'We don't beat up our hecklers': Rubio shows Trump how to handle protesters (VIDEO)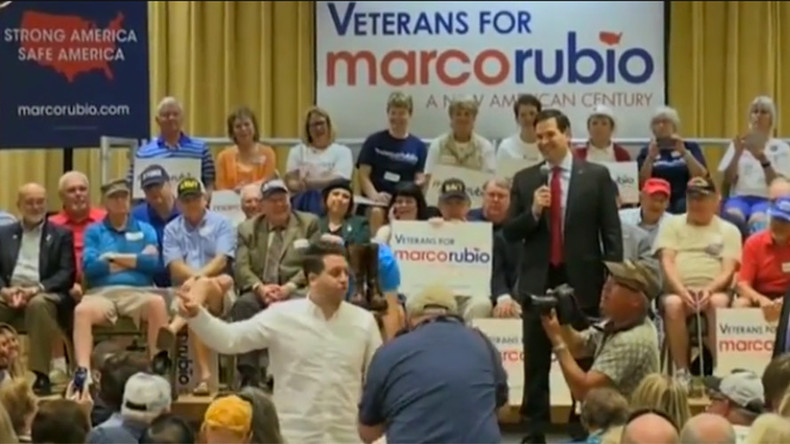 Republican presidential candidate Marco Rubio came to the defense of a heckler at his Florida rally on Sunday when some of the crowd turned on the man for accusing Rubio of trying to steal his girlfriend.
Rubio casually laughed off the interruption while simultaneously throwing a jibe at his opponent Donald Trump, quipping, "That's alright, hey, we don't beat up our hecklers in our events".
The remark comes after a Trump rally was cancelled in Chicago on Friday amid fighting between his supporters and protesters. During the campaign several Trump rallies have been marred by his supporters' violent reactions to protesters, with videos emerging online of protesters being assaulted and spat on.
READ MORE: Eight times protesters were attacked, dragged from Donald Trump rallies (VIDEOS)
Rubio, who is rarely heckled at rallies, made the comment as a man interrupted his speech to tell the audience: "Marco Rubio is trying to steal my girlfriend".
The man continued, saying: "Marco Rubio is trying to steal my girlfriend - they met in New Hampshire and she doesn't look at me in the same way anymore."
He conceded Rubio is a bit better looking than him, but insisted Rubio was set on stealing his girlfriend. "You shouldn't vote for him. He's probably going to steal yours too," he warned the audience as security escorted him from the building.
Rubio joked in reply: "I didn't even win New Hampshire." The Republican presidential candidate laughed off the incident, saying, "I'm still looking for the hidden camera".
READ MORE: 'Harder every day': Rubio begins to backtrack on pledge to support Trump as GOP nominee
This weekend saw Rubio roll back on an earlier pledge to support Trump if the billionaire is selected as the GOP nominee. After news and footage of the violence at the canceled Chicago rally surfaced, Rubio said it was becoming increasingly difficult to support Trump.
Five more states - Florida, Ohio, Illinois, North Carolina and Missouri - hold their Republican party primaries tomorrow on what's been dubbed "Mega Tuesday".
You can share this story on social media: