Child smuggled in hand luggage by woman on Air France flight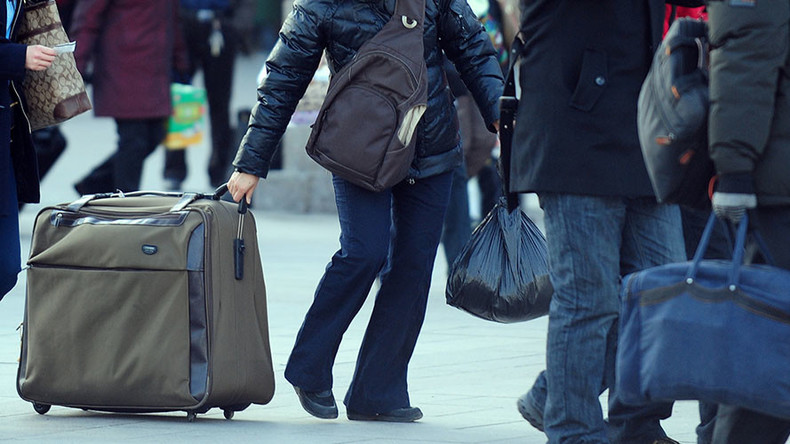 A female passenger aboard an Air France flight from Istanbul to Paris violated her hand baggage weight limit by smuggling a small child in her carry-on luggage.
The French resident is in the process of adopting a child from Haiti and wanted to bring the girl with her Monday, but airport authorities in the Turkish city would not let her leave with the child.
READ MORE: Women stuff live lobsters into suitcase on Hong Kong train (VIDEO)
Finding herself stuck in the airport's transit zone, the woman then purchased a single ticket to Paris and hid the child in her hand luggage, managing to board the Air France flight without the child being detected.
Sounds like the sequel to Terminal.
Once on board, the woman let the child out of her bag and hid her under a blanket by her feet.
Like a lot of children mid-flight, the kid needed to use the toilet and the commotion alerted other passengers to the worrying spectacle. They then informed flight attendants of the young girl's presence.
"The cloth bag belonged to a woman sat at the back of the plane," one of the passengers told Planet.fr. "At one point she opened the bag and her neighbor on the other row of seats saw something moving inside. He alerted flight attendants, who then discovered a baby."
READ MORE: Spacious & narrow: Airbus designs adjustable 'bench seat' for obese passengers, families
As they were mid-flight, the woman and child, who was said to be in good health, were brought to the front of the plane and authorities in Paris were informed of the discovery, meeting the flight when it touched down at Charles de Gaulle Airport.
The pair remain at the airport while police continue their investigations, although French newspaper Le Figaro reports that the woman will not prosecuted.