Spacious & narrow: Airbus designs adjustable 'bench seat' for obese passengers, families
Published time: 22 Feb, 2016 15:25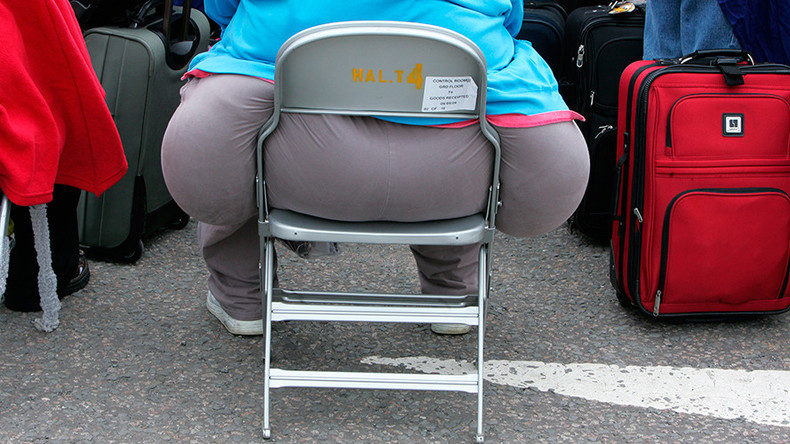 Airbus has designed a "reconfigurable" economy class bench seat for obese passengers and families, possibly allowing them to travel cheaper. But it could mean cramped journeys if the benches are occupied by four people.
A patent application describing a "Re-Configurable Passenger Bench Seat" was filed to the United States Patent and Trademark Office by Airbus.
One drawing shows two overweight passengers occupying a spacious seat which closely resembles a park bench. Another features a family of four that would typically be forced to separate, if sitting in usual rows of seats.
The Airbus application says the bench seat can be "adapted to the requirements of the operator" and "to the requirements of specific groups."
That includes senior citizens and overweight passengers, but also means the seating could squeeze in smaller children if required.
When two people occupy the bench, an arm table folds down to create a barrier between the two passengers.
The company said in its filing: "In modern means of transport, particularly in aircraft, optimum utilization of the space available in a passenger cabin is of major economic importance."
"The cabin layout, particularly the layout of the passenger seats arranged in the passenger cabin, such as the allocation of a row of passenger seats to business class or to economy class for example, should be as flexibly, rapidly and easily re-configurable as possible," it stated.
Carrying overweight passengers has become an issue for many airlines, as they struggle to find a balance between cost- and fuel-efficiency, as well as growing in-flight comfort requirements.
Last year, Uzbekistan Airways made a decision to weigh passengers and their hand luggage before boarding. The company warned that some obese passengers may be excluded from short-haul flights on small airplanes, if weight limits are exceeded.