Blind air passenger sees victory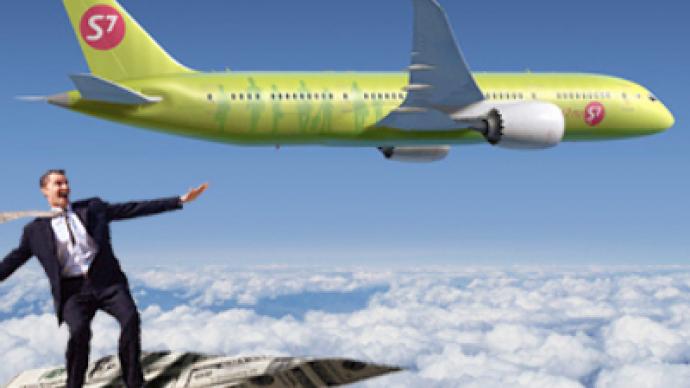 Russian airline S7 is to pay compensation to a partially-sighted passenger it turned away from boarding a domestic flight in February.
Linin District Court in the Tula Region ordered the airline to pay Pavel Obiukh 25,000 roubles (approx. $750). The settlement falls far short of the million roubles (approx. $30,000) demanded by the 29-year-old for 'moral damage'.
Obiukh said the court had also imposed and additional fine of 12,500 roubles on S7, payable to the State, the Interfax news agency reported on Tuesday.
Obiukh intends to lodge an appeal with Russia's Supreme Court against some of the Federal transportation rules pertaining to disabled passengers.
According to the Press Service of the Forensic Department of Tula Region, S7 were satisfied with the Court's decision, whereas the defendant intends to press the matter further.
Fines paid by airlines in similar cases
2002 – Virgin Atlantic (UK): £13,000 to a woman who was squashed by an obese person who sat next to her.
2003 – United Airlines (USA): $1.5 million to the government for having discriminated against passengers of Arab or Middle Eastern descent.
2004 – American Airlines (USA): $1.5-million to the government for having discriminated against passengers of Arab, Middle Eastern and South Asian descent.
2006 – JetBlue (USA): $240,000 to the passenger forced to cover his T-shirt displaying Arabic script.
2007 – Air France (France): €8,500 to an overweight man, for making him pay for an additional seat.
2009 – Air Canada (Canada): Canadian $10,000 to a partially blind man for insisting he fly accompanied.
Pavel Obiukh is a coordinator of educational programmes at the regional non-governmental organisation of people with disabilities, Perspektiva. He was due to fly for a business trip to the Central Russian city of Kazan on February 18, but was refused entry on the S7 flight.
He insisted he had notified the airline of his condition beforehand but claimed S7 staff simply ignored it. It's reported that airline staff at the time referred to S7's internal code on flying passengers with disabilities.
Eventually, Obiukh was forced to buy a ticket for a Tatarstan Airlines' flight.
Obiukh, who has limited vision, said the incident was a violation of his rights. After having attempted and failed to settle the row directly with the airline, he filed a case against S7.
The Prosecutor General's Office demanded in March that the airline's director-general "call to account those responsible".
The Public Chamber of the Russian Federation announced it was going to demand that the Ministry of Transport make appropriate changes to civilian transportation rules to prevent similar cases in the future.
S7 recently lost a similar case involving a disabled woman who was also turned away from boarding.
You can share this story on social media: