Women stuff live lobsters into suitcase on Hong Kong train (VIDEO)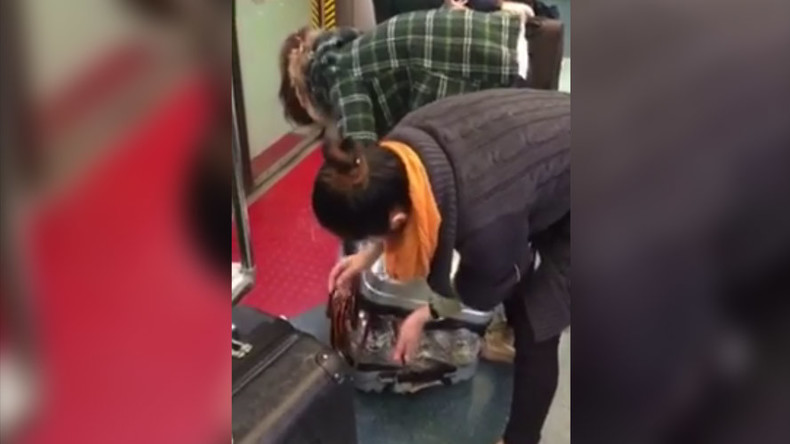 An extraordinary video of live lobsters being jammed into a suitcase on a train in Hong Kong has been shared on social media.
Two women are seen struggling to close the item of luggage after arranging the large and lively shellfish inside.
Passenger Lee Ming Fai recorded the bizarre scene and uploaded the footage to Facebook.
He said the women packed at least a dozen lobsters into the case on the Monday morning train, travelling from Sheung Shui to Lok Ma Chau, according to the South China Morning Post.
Live animals - apart from guide dogs - are prohibited from traveling in passenger carriages on trains in Hong Kong and mainland China.
Nevertheless, people still attempt to smuggle live fauna and fowl on board. This can result in a lobster-case outcome, as above, or it can end rather more messily...
Two live chickens were slaughtered by a man outside a train station in Wenzhou in eastern Zhejiang province this week, after he was refused permission to bring them on board, the South China Morning Post reported.
The man was intending to give the animals as gifts to relatives for the forthcoming Chinese Lunar New Year holiday, and certainly wasn't planning on leaving them behind on a train platform.
Late last month a woman, who was advised she could not take a live duck on board with her as planned when traveling from Chengdu in Sichuan province, subsequently cut the duck's throat before continuing on the journey.
You can share this story on social media: