Yacht team releases footage of mummified body find, blame USCG for leaving ghost boat adrift (VIDEO)
Published time: 10 Mar, 2016 06:41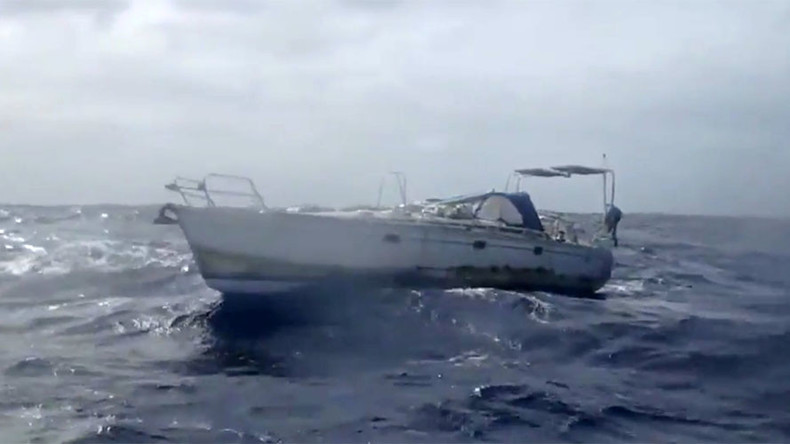 The yacht team that first found the mummified body of German adventurer Manfred Fritz Bajorat on a floating yacht was told by the US Coast Guard it would be looked after, but the boat was left to sail away, only to be rediscovered by fishermen weeks later.
The crew of the LMAX Exchange, who were crossing from Airlie Beach, Australia to Da Nang, Vietnam, made the grisly discovery 470 nautical miles off the coast of Guam during a race on January 31.
New video footage has been released showing the moments when one of the crew members swam to the vessel and discovered the body, an experience his team mates described as "quite distressing."
It transpired that the team left the boat adrift, and Bajorat's mummified body was not discovered again until February 25, when fishermen found the yacht floating off the coast of the Philippines.
READ MORE: Ghost ship: Mystery mummy found on floating yacht may be German adventurer (GRAPHIC PHOTOS)
Amid media accusations claiming they could have done more to assist Bajorat, the LMAX Exchange team released a statement clarifying what had happened, blaming the US Coast Guard for lack of action.
The team apparently immediately informed the USCG in Guam about finding the vessel and its location, but were reportedly told to continue on with their race, as they could provide no further assistance.
"We remained on site, under instruction, until released by the USCG who continued with the recovery," their statement reads.
The boat, however, was left adrift and not discovered again until weeks later.
The team said that they and the race directors had raised the discovery in race reports, and also passed on the boat registration details to the German Police and Coast Guard, to help them find the sailor's next of kin.
Bajorat, 59, had been a recluse in recent years, with a friend telling Bild that he had last heard from him on Facebook in 2015. Dry ocean winds, hot temperatures, and salty air helped to preserve his body in a mummified state. Police do not suspect foul play in his death.