Communists urge Russia to stop "bowing down to the West"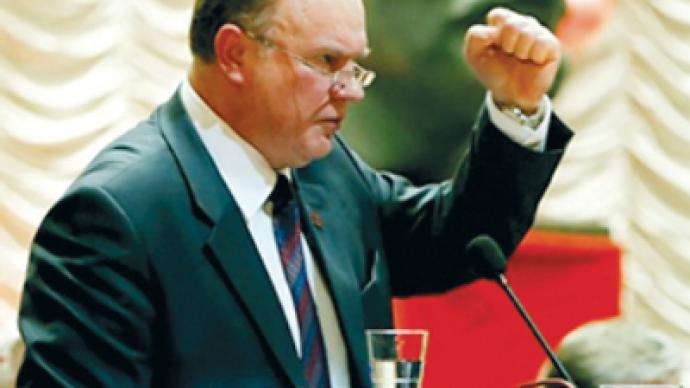 Russian Communist chief Gennady Zyuganov has fiercely criticized the country's leadership for its foreign policy and demanded that Moscow stop "bowing down to the West."
"The Russian leadership strives to strengthen cooperation with the US and strongly believes in its friendly intensions. However, the behavior of our new 'comrades' – well illustrated by the recent 'spy scandal' – hardly resembles a friendly one," the statement by the leader of the Communist Party reads as published on the faction's official website.
The politician noted that the incident involving an alleged Russian spy ring in the US occurred shortly after President Dmitry Medvedev's official visit to the US, indicating that the "stone to be thrown at Russia's window" had been prepared in advance.
Zyuganov has also criticized Russia's decision to support new sanctions against Iran over its nuclear plans and "the gas war" with Belarus – both of which, he believes, are not in line with the country's geopolitical interests.
"Trying to please the US, the Russian leadership keeps making new concessions and pushes away those very few allies that we have left. In return, Moscow gets gifts like the spy scandal," he stated.
Among the concessions the Communist leader is not happy about is the recent announcement that Russia will buy 50 Boeing 737 commercial jetliners for the Aeroflot state holding. That move, Zyuganov believes, is harmful to the country's aviation industry.
He is confident that "a refusal to buy Boeing planes would be a good stimulus for a revival of the Russian aviation industry."

Also, lifting a ban on importing American poultry – agreed by the two sides – hits Russian agriculture, Zyuganov said. Earlier Russia prohibited American chickens for safety reasons as it was feared that the US used too many antibiotics in chicken-rearing. The chicken issue has been a hot button in Moscow-Washington relations since the early 90s when, after the Iron Curtain was lifted, American poultry – known in Russia as "Bush legs" – flocked into impoverished country.
Zyuganov suggests that Russia should refuse buying "Bush legs" since their import not only "destroys the Russian poultry industry which has only started to revive" but also poses a health risk.
Russia, for its part, gets no benefits in return, he states, citing as an example America's "sham refusal to deploy its missile defense shield in Poland."
"Moscow, in return, announced it was abandoning all counter measures it was planning. But today the US is deploying Patriot missile systems… and are planning to deploy the most up-to-date SM3 missile interceptors," he said.
Speaking about US Secretary of State Hillary Clinton's Eastern European and Caucasian trip, Zyuganov said it was "undoubtedly a continuation of a campaign aimed at creating an anti-Russian block."
In conclusion, the leader of the successor faction of the party that ruled the Soviet Union for over 70 years defined American actions as "unfriendly" and "insulting" and urged retaliatory measures.
You can share this story on social media: