Russia-US conduct biggest spy swap since Cold War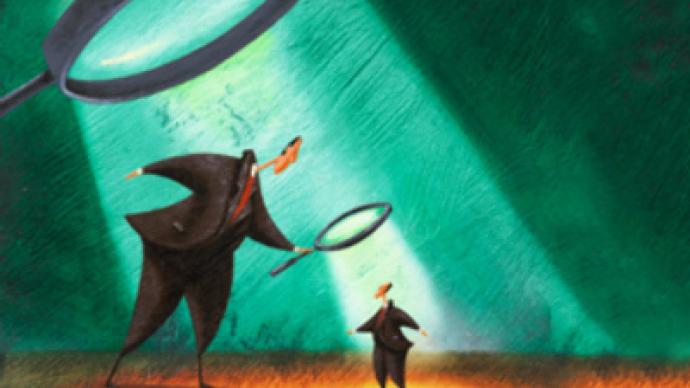 A plane carrying the Russian citizens accused by the US of spying and deported from the country landed at Moscow's Domodedovo airport on Friday evening.
"A Russian Emergency Situations Ministry airport arrived from Vienna's Schwechat airport to Domodedovo at 17:50 Moscow time," a well-placed source told Interfax on Friday evening.
Thus Moscow and Washington have conducted the biggest prisoner exchange since the end of the Cold War. Ten alleged Russian spies arrested in the US have been traded for four detainees convicted of espionage in Russia.
The plane with Russian agents arrested in the US last week had earlier taken off from Vienna where the exchange is believed to have taken place. According to the Associated Press, the Russian Emergencies Ministry's plane – which apparently had brought four Russians to be exchanged for the ten expelled spies – left the Austrian capital about two hours after landing.
The American aircraft, which is believed to be carrying the four Russians onboard, also left the airport shortly afterwards.
Russia's Foreign Intelligence Service and America's CIA have agreed for a deal "on the grounds of humanitarian character and principles of constructive partnership" and in the "context of improvement of Russian-American relations," the Russian Foreign Ministry said.

The action is meant to give the relations between the two states "new dynamics which fit in with top level agreements between Moscow and Washington on the strategic partnership," the ministry said in its statement.
The deal indicates that "the 'reset' orchestrated by the leadership of Russia and the US will be successively fulfilled and that any attempts to misroute the sides from this course will not succeed."
President Dmitry Medvedev has signed decrees pardoning four Russian convicts who agreed to be exchanged for the alleged Russian spies arrested last week in the US, RIA Novosti writes.
According to presidential press secretary Natalia Timakova, the list includes: Igor Sutyagin sentenced in 2005 to 15 years for espionage; Sergey Skripal, a Russian military intelligence officer convicted of spying for the UK in 2006; Aleksandr Zaporozhsky, a former employee of Russia's Foreign Intelligence who was jailed for 18 years for espionage in 2003; and Gennady Vasilenko, who was sentenced to three years for criminal offences but later emerged that he was working for American intelligence since the 1980s.
On Thursday afternoon Sutyagin arrived in Vienna, earlier wrote RIA Novosti citing his lawyer.
"A British officer met him in Vienna," said Ernst Chyorny, executive secretary of the Public Committee in Defense of Scientists as quoted by the Interfax news agency. Chyorny also added that Sutyagin was later supposed to go to London.
Russian agents expelled from the US
Meanwhile, ten alleged members of the Russian spy ring have reportedly left the US by plane after they pleaded guilty to conspiring to work as unregistered foreign agents. They had endured only a few days in jail since their arrests.

Appearing on Thursday before a federal judge in Manhattan, the ten also admitted their real identities. Cynthia and Richard Murphy's real names are Lydia and Vladimir Guryev respectively. Michael Zottoli is the assumed name for Mikhail Kutsik, who was living as part of a married couple with Patricia Mills (Natalia Pereverzeva). Husband and wife Donald Heathfield and Tracey Lee Ann Foley are Russian citizens Andrey Bezrukov and Natalya Pereverzeva. Juan Lazaro – who pretended to be a Peruvian citizen – is in fact Russian Mikhail Vasenkov. His wife Vicky Pelaez – the only non-Russian person involved the scandal – lived under her real name, as well as Mikhail Semenko, and daughter of a Russian diplomat Anna Chapman.

From now on, the door to the US is closed for all them. What now remains unclear is when the agents' children – all American citizens – will be able to reunite with their parents.

The 55-year-old Peruvian-born Vicky Pelaez is reportedly later going to come back to her home country, but her sons – the 17-year old son she had with Mikhail Vasenkov and her 38-year-old son from her previous marriage – will most likely remain in the US, the Associated Press reported.

Citing a US official speaking on conditions of anonymity, the agency wrote that children of other alleged Russian agents will be allowed to leave the country at any time, as long as their departure complies with the wishes of the parents and with any applicable requirements of American law.

Spy swap background: from rumors to reality
Since Wednesday it was widely speculated that Russia and the US were in talks about a possible prisoner swap – which the media dubbed a Cold War era-style deal. As in any proper spy novel, the threads were tangled and many details were unclear.
According to Sutyagin's lawyer Anna Stavitskaya, the man was offered a deal in which he could be exchanged for members of an alleged Russian spy ring arrested a week ago in the US. However, talking to Itar-Tass earlier on Wednesday, the lawyer said that Russia will exchange Sutyagin for a person detained in the United Kingdom.
Whatever the nuances of the deal are, Sutyagin seems to have reportedly accepted it. He had no other choice as "otherwise his life would be crossed out," Stavitskaya said, underlining that her client had not committed the crime he was convicted of.
Sutyagin, who was sentenced in 2004 to 15 years behind bars, was convicted of passing classified military information to a British company which, according to Russian prosecutors, was used as a front for the CIA.
Confession in exchange for freedom
The information about the possible spy swap was also confirmed by Sutyagin's mother, Svetlana. Kommersant daily writes that earlier this week the man was moved to Moscow's Lefortovo jail from a prison in Archangelsk in the North European part of Russia. According to the paper, the scientist's mother and younger brother were allowed to meet Sutyagin in Lefortovo. The woman said that a Russian special services representative – either from the intelligence service or from the Federal Security Service – and American diplomats were present at the meeting.
Prior to that, her son was offered to sign a confession of committing high treason, Svetlana Sutyagina is cited as saying. In return, a Russian officer explained, the scientist would be given the choice of leaving the country for permanent exile, while keeping Russian citizenship and be allowed to visit relatives in Russia.
Sutyagin was told that he and ten other prisoners in Russia will be swapped for people arrested in the US on charges of espionage and money laundering.
"I realized that I would have no other chance to be set free," he is cited as saying. Apparently, there was also a noble motivation behind the deed, since Sutyagin was told that if at least one of the detainees refuses the exchange, there would be no deal at all.
Back in the nineties, Igor Sutyagin headed a department in the Institute of USA and Canada at Russia's Academy of Sciences, which dealt with military policies. He was detained in October 1999, prior to a foreign trip, and convicted of passing classified information to British company "Alternative Futures". According to Russia's Federal Security Service, the firm was linked to the CIA. The information included details of new arms systems and nuclear submarines. On July 7, 2004, he was sentenced to 15 years imprisonment for espionage.
Spy exchange rate
Ernst Chyorny, executive secretary of the Public Committee in Defense of Scientists, told Kommersant daily that Russia passed the list of prisoners to the US via diplomatic channels. He did not clarify exactly how he managed to have a look at the document, but said that one of those mentioned was former Russian military intelligence colonel Sergey Skripal, who was sentenced to 13 years in prison in 2006. Skripal was accused of spying on behalf of the UK.
Citing sources in the special services, the paper also named Aleksandr Zaporozhsky and Aleksandr Sypachyov – both of whom were also charged with espionage.
Meanwhile, the ten suspected Russian spies arrested in the US had been moved to New York to face charges. Among them was a couple from Massachusetts– technology consultant Donald Howard Heathfield and real estate agent Tracey Lee Ann Foley – who, according to federal authorities, were falsely posing as Canadians. The US Boston Globe writes, citing "sources with knowledge of the case" that the two were believed to be among those in the swap.
The online news outlet mentioned that the couple's two sons – 20-year-old Tim and 16-year-old Alex – had left the US several days before and are now in Russia.
Prisoner exchanges in the past
During the Cold War Spy swaps were quite common practice .
Probably the most significant case involved a Soviet spy, KGB colonel Rudolf Abel, also known as William Fischer. On February 10, 1962, he was exchanged for American pilot Francis Gary Powers, who had been shot down over the territory of the USSR on May 1, 1960, and sentenced to 10 years in jail. The loss of the U2 plane with surveillance and technical equipment onboard was quite an embarrassment for Washington.
The exchange – which was seen as a political act – took place on the Glienicke Bridge connecting Potsdam, East Germany, to West Berlin.
Two years later, in 1964 the bridge became the scene of another swap: Soviet Konon Molody was traded for British spy Greville Wynne. Molody, also known in the West as Gordon Arnold Lonsdale, was an illegal resident spy during the Cold War and the mastermind of the Portland Spy Ring that operated in England from the late 1950s until 1961.
In February 1986, famous Soviet dissident Anatoly Shcharansky (now Natan Sharansky) – who was jailed for treason and espionage – was swapped for Communist spies arrested in the West in 1984: Karl Koecher and Hana Koecher.
Those are just a few examples out of a number of deals between the governments during the Cold War. After the Iron Curtain fell, spy passions seemed to have calmed down.

The Russian- American spy swap deal agreed this week is the first one of such a scale in modern times, where Moscow and Washington are no longer foes.

Natalia Makarova, RT
You can share this story on social media: