Death of MI6 agent during Khrushchev visit still unclear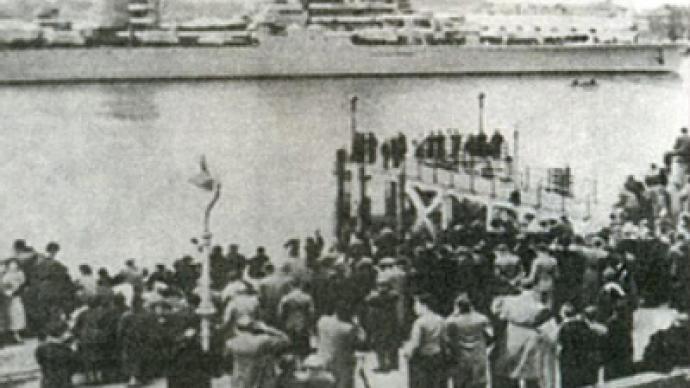 The British National Archives has declassified documents relating to the visit of Soviet leader Nikita Khrushchev to Great Britain in 1956 and the disappearance of a British special agent connected with the event.
It has been 38 years since the death of Nikita Khrushchev, the man behind the Soviet Union's post-Stalinist thaw, but new facts are still surfacing about his past.
On April 18, 1956, Khrushchev arrived in the UK for a goodwill visit aboard the cruiser 'Ordzhenikidze', which docked at Portsmouth together with two other Soviet warships.
The same day, Commander Lionel 'Buster' Crabb, a man said to be the inspiration for James Bond, checked into a hotel in Portsmouth. A day later, Crabb checked out and was never seen again. Later, his bill was paid for by someone believed to be his MI6 controller.
"Two days later I had a call from one of our colleagues in Vernon who said, 'Have you heard about Crabb?' I said 'No, what's that?' He said 'Well, apparently he was unofficially diving under the Russian boat that was here on a goodwill visit," remembers Noel Cashford, Crabb's training partner.
It took ten days for the UK authorities to react. They said Crabb had died while exploding a secret mine. Soviet officials, however, complained that a diver had been spotted near Khrushchev's cruiser.
Journalist Don Hale gathered evidence of the case for his book 'The Final Dive'.
"It's a government cover up – it's not just an individual, it's a massive government cover up. Naval intelligence, MI5, MI6, the CIA… They've all been involved trying to keep a lid on it, because they did not want to start World War III or antagonize the Russians any more at that time," says Hale.
The incident caused a major diplomatic row. Soviet officials accused British intelligence of spying on their warship. Then UK Prime Minister Anthony Eden said he had forbidden any spying on the Soviet leader. Today, his statement is being questioned.
"I feel very angry towards the British government who failed to search properly for Lionel Crabb's body when it failed to surface. They also failed to tell his family what happened. And the lies they told about him – having gone under that ship of his own volition when he was under orders – and they knew he was under orders!" says Lomond Handley, a relative of the late commander.
The official explanation was that a body – with its head and hands cut off – had washed up on the coast of Southern England 14 months later. The body is believed to have been that of Lionel Crabb's.
Although declassified, the files relating to the case from the British National Archives have many lines blacked out. The Ministry of Defence says it cannot release its files because they were contaminated with asbestos during storage.
These documents, once fully declassified, might shed some more light on what actually happened to 'Buster' Crabb in the waters of Portsmouth Harbor. Until that time, only the sea has borne witness to the mysterious events of April 1956.
You can share this story on social media: