'Zombie attack' prank stuns Miami residents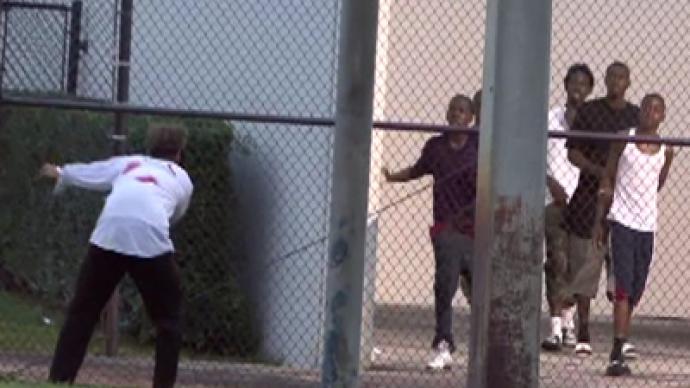 A "Zombie" outbreak has paralyzed a residential quarter in Miami with fear, having barely recovered from the shock of a grisly cannibalism story about a drug-user chewing off his victim's face.
The video, which quickly became an online hit, shows a young man wearing a blood-stained shirt. The "zombie" quietly approaches passers-by and attacks them from behind. Vividly recalling recent bloody events, most locals ran away in a panic. The "zombie attack" appeared to be prank staged by two young men who decided to make use of local tensions. The video was shot by an operator hiding in a car parked nearby and slowly following "the zombie".Curiously, only two little boys try to fight back using a ball and a fake pistol. When people realize that the prankster is harmless, a whole basketball team dares to attack him. What happened to "the zombie" next remains off-screen.The video has gained almost a million views on YouTube and over 6,000 comments. Most users praise the creators for their humor and inventiveness, though some pointed out than such a prank was a bad idea given the shock people had just experienced. "They are idiots," one user wrote. "Luckily for them, arms are banned in Miami. Should it happen in Texas, I would've shot him down without even thinking."Zombie conspiracies have recently been bouncing around the internet, becoming the third most-popular search term on Google. The Western media even accused the Russian Defense Ministry of developing new generation "psychotronic" weapons that turn people into zombies. The panic became so widespread that the US Center for Disease Control had to calm the American public in the wake of internet rumors of a possible "zombie apocalypse." US authorities, meanwhile, have been increasingly worried about the recent wide distribution of a drug known as "bath salts", which was allegedly behind the shocking cannibal case. The salts contain toxic chemicals capable of inducing psychotic episodes. The drug is known to cause agitation and increased heart rate and blood pressure. In severe cases, paranoia, hallucinations and aggressive behavior can occur, Mesa County Chief Deputy Coroner Kim Hollingshead told AP.The Rocky Mountain Poison and Drug Center said it received 10 reports this year of people using bath salts or other combinations of the compounds. Last year, 44 cases were reported.The DEA issued an emergency ban on three ingredients often found in bath salts, and Congress is debating whether to impose a permanent ban. Colorado lawmakers passed a bill this year to ban several combinations of synthetics that could be behind bath salts.
You can share this story on social media: