Occupy plans Zombie Xmas shop shock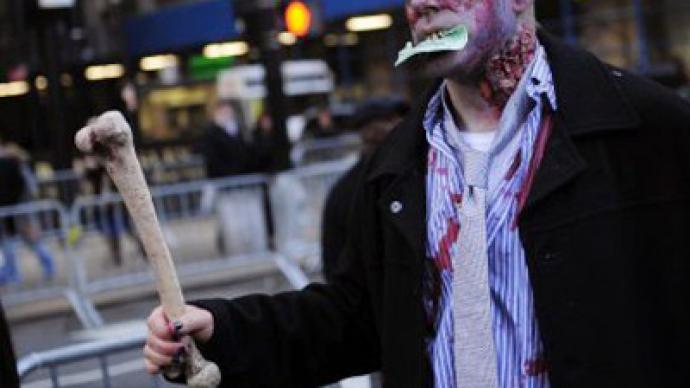 It ain't called Black Friday for nothing: every day after Thanksgiving, the leftovers haven't gone cold yet, but crowds are already charging to start the year's biggest event – Christmas shopping. But this year, Occupy Wall Street could change that.
From Chicago to Seattle, Occupy Xmas is calling on fellow-protesters to gather outside major shopping venues and protest consumerism, which takes on elements of religious fanaticism this time of year.From marching on Wal-Mart Stores Inc. supercenters, to organizing sit-ins at malls and cutting up credit cards, activists are trying to remind people what the holiday is really about – and what it should NOT be."Consumer overconsumption has gotten us into this mess and the economic crisis to begin with. The work we're trying to do is to get people to care about the country, to get us focused on how we can redirect our resources," Chicago Tribute quotes spokeswoman for OWS, Dana Balitki.To warn of the dangers of obsessive buying, protesters in Idaho are planning on dressing up as… what else? zombies.In Chicago, Christmas carols will take on socio-political undertones, as protesters sing about the evils of consumer society – and offer a solution, all that to music.Occupy Xmas is not just about shredding your credit cards, however.Nor is it about buying no presents whatsoever – after all, many have kids and loved ones, who hope to get a little special something this year under their Christmas tree, many admit on the Occupy Seattle internet forum. Some of the ideas to battle buying frenzy this year include exchanging items at special booths, buying only locally-produced goods, and making something with one's own hands.The full list of suggestions can be seen on the Occupy Xmas website. But the media aren't picking up the "it's about caring, not about the gifts" attitude of Occupy Xmas movement. CBS Seattle already led the news story under the headline "Occupy Seattle Protests Could Interfere With Tree Lighting Ceremony," implying that Occupy's emphasis on caring rather than cash may put a damper on holiday revelers. Boycotting the post-Thanksgiving shopping jitter is nothing new. The Adbusters group, who have been battling conspicuous consumption long before OWS got its kick-start, established Buy Nothing Day 20 years ago. Ironically, the 20th anniversary just happens to fall in the midst of the Occupy Wall Street move, prompting hopes that this time, many more people will buy much less.
You can share this story on social media: