$14 mln payout after birth control pills caused stroke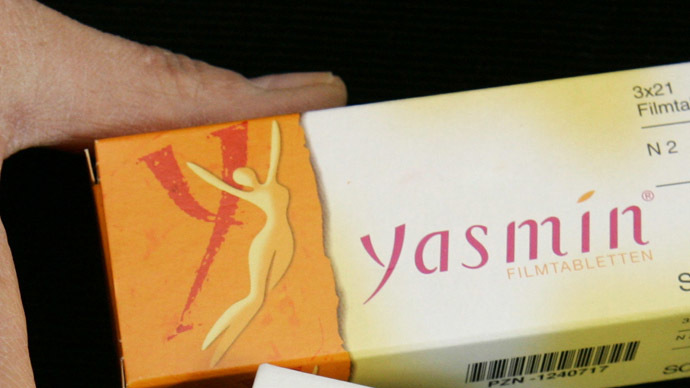 A jury near Chicago, Illinois has ordered a doctor there to pay a local woman $14 million after the birth control drug he prescribed to her allegedly caused a severe stroke and left her confined to a wheelchair.
After a two-week-long trial, the jury said on Friday that Dr. Zbigniew Aniol must pay the costly settlement to Mariola Zapalski and her husband, Rafal Zapalski, to compensate for what the plaintiffs believe will be a lifetime of medical bills.
In 2007, Zapalsi suffered a stroke just 13 days after Dr. Aniol wrote her a prescription for the popular birth control drug Yasmin. Attorneys for the woman say her physician failed to warn of potential side effects and other dangers, and instead wrote the script without assessing applicable risk factors.
Zapalski's attorney, Bradley Cosgrove, said Dr. Aniol neglected to warn the woman that being over the age of 35 and having hypertension increased the likelihood of experiencing side-effects. Zapalski was 37 when she was prescribed the drug.
"A stroke is something that physicians should understand can occur with … birth control pills like Yasmin," Cosgrove said, according to the Chicago Tribune"They need to be particularly careful in prescribing this type of medication to a patient who is not the right candidate for it."
"Under the circumstances for this patient, Yasmin was a dangerous drug for her and it was an inappropriate choice because of Mariola Zapalski's underlying risk factors," a local ABC affiliate quoted Cosgrove as saying.
Less than two weeks after she started taking Yasmin, Zapalski suffered a stroke and has been unable to move the left side of her body in the seven years since.
"No one should have to go through what we did," her husband told the paper. "(Doctors) need to treat every … single patient as an individual person. They need to be more careful when prescribing dangerous drugs to make sure they are for the right person," Mr. Zapalski said.
According to Cosgrove, the outcome could have been avoided had the physician simply considered other alternatives.
"He could have prescribed a progesterone-only pill to manage her medical condition, which carries little to no risk," he said. According to Mr. Zapalski, his wife now requires 24/7 care, the cost of which is expected to be significantly covered by the latest settlement.
Last year, the hospital that referred the woman to Dr. Aniol was ordered to pay a separate settlement of $2.5 million. The drug's manufacturer, Bayer Healthcare Pharmaceuticals, has settled more than 8,000 claims from Americans plaintiffs for a total of $1.4 billion, according to WGNTV News. Bayer maintains that its drugs are safe when used as directed.
You can share this story on social media: