Chicago man claims cops raped him with a gun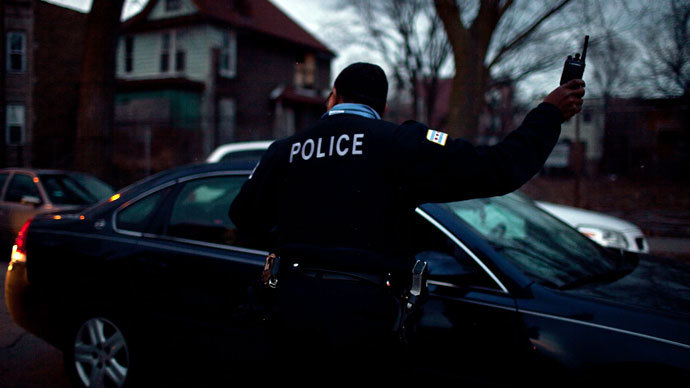 A federal lawsuit filed against the city of Chicago and its local law enforcement agency alleges that two police officers sodomized a man with a revolver while he was illegally detained for several hours last year.
Delivery driver Angel Perez says in recently filed legal documents that he was assaulted repeatedly by Chicago Police Department Officer Jorge L. Lopez and another cop during a traumatizing experience last October that has prompted him to sue the city and those involved for excessive force, failure to intervene and emotional distress.
According to the lawsuit first reported Monday by Courthouse News, Lopez and a colleague locked Perez in a cell for several hours and sexually abused him with a handgun during the second of two days he spent in the custody of the Chicago PD.
The ordeal started for Perez on October 22, 212 when he was allegedly picked up by Lopez and another officer and taken in an unmarked police car to the city's Harrison Street Police Station for interrogation.
"Two officers began assaulting the plaintiff with questions regarding robberies and drug dealers in the Taylor Street area," the complaint states. "Plaintiff responded that he did not know anything about robberies or drug dealings in the Taylor Street area and again and repeatedly requested that the officers call his lawyer. Plaintiff's lawyer was never contacted and the questioning continued. The officers were particularly interested in why the plaintiff had the telephone number of an individual by the name of 'Dwayne' in his telephone."
According to Courthouse News, Perez was released from police custody after two hours. One day later, however, he received a phone call from Lopez instructing him to meet at a nearby parking lot in order to sign some paperwork. Once again, Perez says he was assaulted and taken back to the police station where he was handcuffed to a bar and placed in ankle shackles by Lopez and another man identified only as "Sergeant."
"Plaintiff was held against his will in the room for several hours handcuffed and shackled, and not free to leave the custody of the defendants," the complaint continues. There Perez was allegedly in the presence of upwards of six officers who told him he'd be moved to another facility "to be raped by gang members" if he didn't assist them.
The officer, it continues, "would plant evidence on him and his family members if he continued to refuse to cooperate with them. Still, further that if he did not cooperate they would charge him a conspiracy to obstruct justice."
Perez then says he was told to make contact with the man named Dwayne that was brought up during the previous day's interrogation. When he refused to make the phone call, the officers reportedly got violent.
"After a period of time refusing to call or text Dwayne, the officers began to pull and contort the plaintiff's body while he was handcuffed to the wall and shackled at his ankles, causing the plaintiff severe pain. At one point, the Sergeant sat on the plaintiff's chest and placed his palms on the plaintiff's eye sockets and pushed hard against them, causing plaintiff severe pain. The Sergeant also drove his elbows into plaintiff's back and head causing severe pain. Defendant Lopez was in the room at the time and did not intervene."
Lopez eventually called up his acquaintance and attempted to initiate a drug deal, but only after things escalated between him and the officers.
"After several hours of verbal and physical torture, defendant Lopez and the Sergeant were alone in the room with the plaintiff," the complaint continues. "The officers told plaintiff that if he refused to cooperate with them that they were going to give him a 'little taste' of what he would be getting at the Cook County jail. They put plaintiff over a chair and pulled down his pants and defendant Lopez said, 'I hear that a big black nigger dick feels like a gun up your ass.'"
"Then defendant Lopez and/or the Sergeant, knowing their actions created a strong likelihood of great bodily harm and mental anguish, inserted a cold metal object, believed to be one of officer's service revolvers, into the plaintiff's rectum, causing the plaintiff severe pain and humiliation. The two officers laughed hysterically while inserting the object into the plaintiff's rectum."
"The Sergeant then said 'I almost blew your brains out.' The officers told the plaintiff that they would continue to insert the gun into his rectum until he cooperated with them."
The complaint attests that Lopez soon began crying and agreed to cooperate with the officers. He then made the drug deal and broke off all contact with the officers while attempting to file a report with the Independent Police Review Authority.
"At no time on either October 20, 2012 or October 21, 2012, prior to plaintiff's seizure and torture, did the plaintiff commit a crime," Perez says in the complaint.
You can share this story on social media: