Southern US struggles through 'catastrophic' winter storm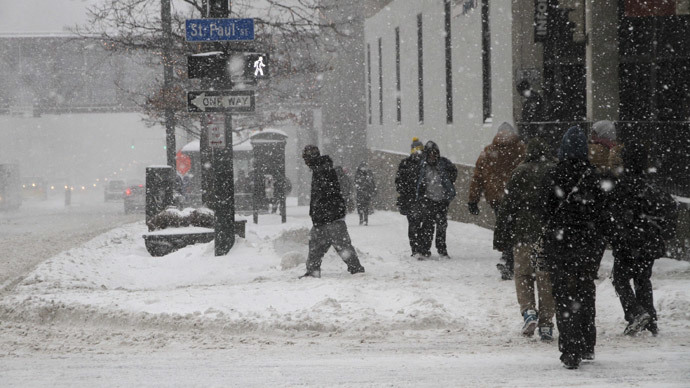 Thousands of Americans across the country found their plans complicated as wind, snow, and icy rain whipped through the southern states and then made its way north in a blizzard that meteorologists predicted could affect some 100 million people.
The deep freeze ensnared much of the northeast on Thursday, days after battering Georgia, Texas, and a vast swath of the south. Eleven inches of snow were measured in Central Park in the heart of Manhattan, with 15 inches covering much of New Jersey and 13.5 inches breaking the previous record of 3.4 inches in Philadelphia, Pennsylvania.
Snow was on the ground in 49 out of 50 US states, with Florida the only exception. As the eastern seaboard recovered from the snow and freezing rain, meteorologists forecasted record-low temperatures for the end of the week.
On Thursday the storm's death toll continued to climb after a pregnant woman was killed in New York, struck by a privately-owned tractor that was clearing snow at a parking lot. The nearly full term baby boy was miraculously saved, though, delivered by cesarean section and weighing in at 6.6 pounds.
Michael Musher, a meteorologist with the National Weather Service, warned Tuesday that ice forecasts "remain mind-boggling if not historical" in major metropolitan areas including Athens, Atlanta, and Augusta, Georgia, Columbia, South Carolina, and Raleigh, North Carolina.
"High ice accumulations will make travel impossible," the NWS said in an advisory. "This has the potential to be a catastrophic event, widespread power outages are possible as ice accumulates on trees and power lines and brings them down."
Quite possibly the craziest snow photo I've ever seen, today in Raleigh NC: http://t.co/YTDIRTidb3pic.twitter.com/kNjM9FEwJL

— Eric Holthaus (@EricHolthaus) February 13, 2014
Both Maryland and Virginia declared states of emergency Tuesday before much of the snow had fallen, warning residents to stay indoors and prepare for possible electricity outages.
"Just as state government is preparing for this storm, I urge every Virginian to take proper preparations," Virginia Governor Terry McAuliffe said in a statement. "Prepare to limit unnecessary travel during the storm, have emergency supplies on hand and be ready in the event that power in your area goes out."
Downtown Raleigh! (Via @WRAL) pic.twitter.com/lGSqD2YiIy

— Will Brinson (@WillBrinson) February 12, 2014
Across the nation, flights were cancelled in anticipation of the ice. Mark Wiebke, an assistant aviation director at Charlotte airport, told the Charlotte Observer the weather has become so unpredictable in recent years that crews have begun to rely on a "snow desk," a wall of screens keeping them informed on air patterns and on airplane de-icing procedures.
"In this part of the Carolinas, it changes all the time," he said of the forecast. "You think it's going to happen and it doesn't. Then the next morning you get up and you have 6 inches."
This image tells the story. Triangle snow. I-85 in Durham. @WRAL#ncsnow#ncwx (PHOTO CREDIT: ARIELLE CLAY) pic.twitter.com/ww0dxgNk8T

— Adam Owens (@AdamOwensTV) February 12, 2014
US President Obama declared a state of emergency in Georgia, two weeks after state officials were embarrassed by their lack of preparation for a small amount of snow. Atlanta public school officials announced schools would be closed on Tuesday and Wednesday, with emergency crews throughout the state mobilizing to fix downed power lines or help the elderly and stranded.
Between 3 to 6 inches of snow and sleet are initially expected in the northeastern corner of the state. The Atlanta metropolitan area is not expected to receive more than 3 inches, Governor Nathan Deal told reporters. Total accumulation could reach eight inches by the time the snow stops falling on Atlanta Thursday.
"We've included health officials and power companies in our preparations because heavy downfalls of ice can knock out power supply," he said. "I want to make sure we're reaching out to health care facilities so they can have backup plans in place."
Deal said Wednesday about 190,000 people across Georgia are without power. SCE&G and Duke Power estimated nearly 100,000 have lost power in each of the Carolinas, USA Today reported.
Roof collapses at Charlotte church #NCsnowhttp://t.co/NtQ5pActskpic.twitter.com/60aFVCeepy

— NBC Charlotte (@wcnc) February 12, 2014
Remnants of the storm are expected to travel north, hitting New York City, Boston and much of the northeast by Wednesday night, when other areas will still be trying to recover. Major cities in the mid-Atlantic and Northeast regions are expected to get lesser amounts than inland regions and the Appalachian mountains, which is projected to receive the heaviest snow, at between 12 and 18 inches.
Among the worst hit already was Texas, where at least four people died. One of those was a firefighter who fell from an icy highway when responding to a traffic accident.
Power outages in US South: 167,462 in Georgia, 157,934 in South Carolina, 70,671 in North Carolina, 33,033 in Louisiana - @TWCBreaking

— Breaking News Storm (@breakingstorm) February 13, 2014
Authorities said two people were killed in Georgia, North Carolina, and Mississippi respectively due to traffic accidents caused by the storm. Three lost their lives with a Texas ambulance driver lost control of his vehicle while driving over ice.
Thousands of utility vehicles had assembled throughout the South packed with salt, brine gravel, sand, and other tools used to clear the roads. Aaron Strickland, chief of the Georgia Power Storm Center, told USA Today he had never seen an inch of ice in Atlanta. He said that, in preparation, crews were on hand from Pennsylvania, Florida, North Carolina, and elsewhere.
"I've seen people forecast it, but it's never come," he said. "And I'm hoping it doesn't this time."
The ice may cause unprecedented damage in certain areas. Slate meteorologist Eric Holthaus wrote "it's not unreasonable to expect that Atlanta—sometimes known as 'the city in a forest'— could lose a quarter of its trees in this storm."
According to Flightstats.com, over 4,000 commercial flights were canceled Wednesday, and about 2,000 more scheduled for Thursday have been nixed.
You can share this story on social media: