Russian game show goes West
Published time: 10 Dec, 2009 12:16
Edited time: 10 Dec, 2009 16:25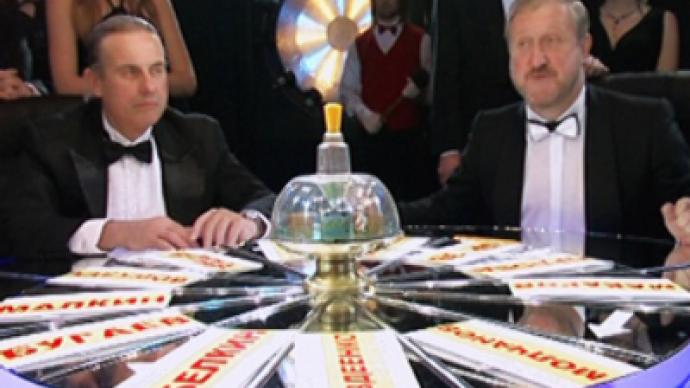 Russian television hit "What? Where? When?" – a game show that has been on air for three decades – is said to be finally going global.
According to the Hollywood Reporter, ABC channel has reportedly ordered a US version of the popular Russian game, which will have a new title, "The Six", produced by Merv Griffin Entertainment.
In Russia, a team of six people takes part in "What? Where? When?" They play against TV viewers who send their questions to the studio, after which they get to be chosen by spinning a wheel. Brainy players have only a minute to solve each puzzle.
The show was brought to screen by veteran Russian TV host Vladimir Voroshilov back in 1975, the year when Merv Griffin's "Wheel of Fortune" was broadcast for the first time.
According to the Hollywood Reporter, acquiring the rights to the Russian show, which belong to Voroshilov's widow and her stepson who became the show's new host after its creator's death, wasn't easy. The sum of the purchase has not been revealed.
Merv Griffin Entertainment's Roy Bank described, "What? Where? When?" as a "show about teamwork and interaction" adding that the moment he saw it, he knew it would work on American TV.
He was also quoted as saying that it has "much more accessible knowledge and intelligence than you would think at first glance that translates to the viewers at home, and they can play along."