Congress members among hundreds arrested in immigration rally at US Capitol
Despite the government shutdown, thousands rallied on the National Mall Tuesday to urge a thus far reluctant Congress to pass a comprehensive immigration reform bill.
Organizers estimated around 20,000 attended the rally - officially called "Camino Americano," or "American Road" - demanding a reform bill include a path to citizenship for the 12 million undocumented immigrants living in the US.

At least eight House Democrats supportive of a reform bill were among around 200 arrested at the rally for blocking traffic in front of the US Capitol in an act of civil disobedience.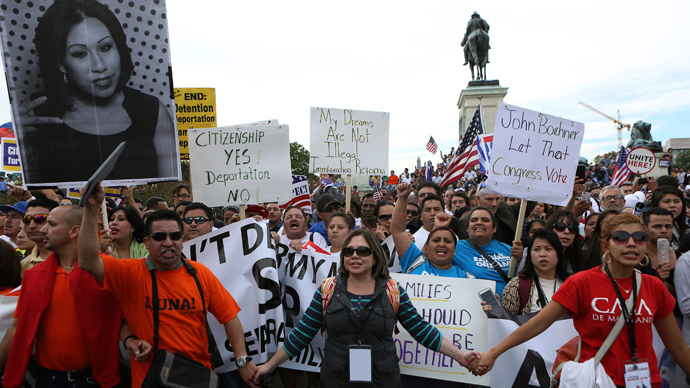 "I've been arrested a few times, and I don't mind getting arrested again for something that is right and fair and just,"
civil rights trailblazer Rep. John Lewis (D-GA) said.
In addition to Lewis, among the arrestees were House Democrats Joe Crowley (NY), Keith Ellison (MN), Al Green (TX), Raul Grijalva (AZ), Luis Guiterrez (IL), Charlie Rangel (NY) and Jan Schakowsky (IL).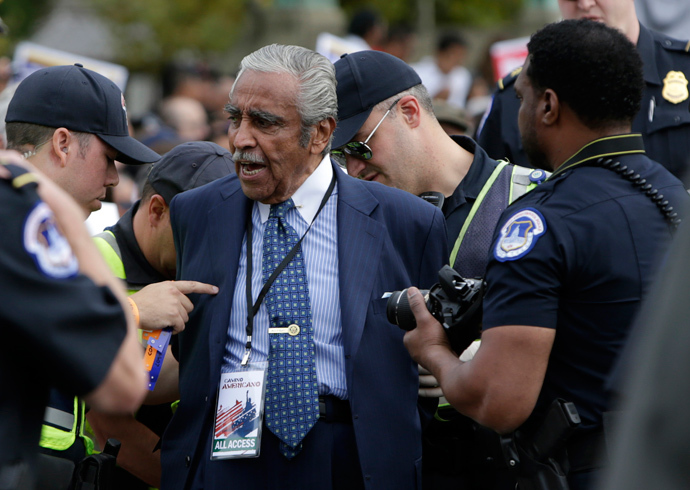 PHOTO: I was arrested this afternoon protesting in support of comprehensive immigration reform. pic.twitter.com/ALr7VEkI0R

— Rep. Keith Ellison (@keithellison) October 8, 2013
Other high-profile voices arrested include American Federation of Teachers President Randi Weingarten, Farmworker Justice President Bruce Goldstein and Maria Neira, Vice President of New York State United Teachers and member of the President's Advisory Commission on Educational Excellence for Hispanics.

The House, led by Republicans, has preferred to approach the issue with piecemeal legislation while the Senate, led by Democrats, has passed a comprehensive bill that allows undocumented immigrants to apply for citizenship within 13 years.

The demonstration was allowed to go on despite the government shutdown given it was considered a First Amendment action, National Parks Service spokesman Mike Litterst said.

He added the Park Service is allowing veterans to visit memorials on the Mall following controversy last week when a group of World War II servicemembers had to move barricades to access the WWII memorial. Yet non-veterans not practicing free speech are still not allowed on the Mall.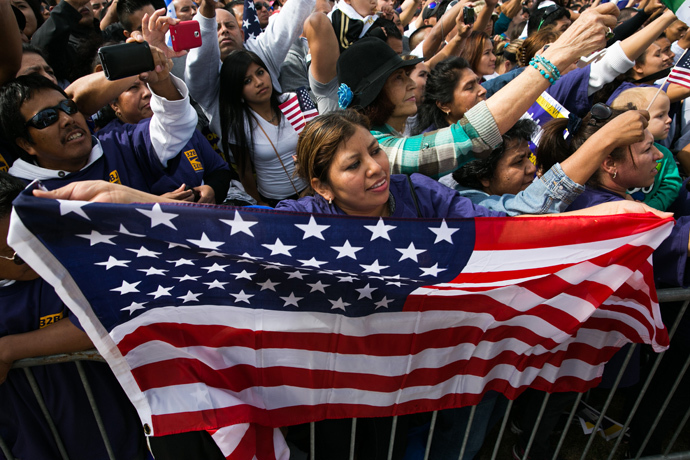 The rally featured a performance by the California band Los Tigres del Norte and addresses by civil rights activists, union leaders and Congress members of both parties, including House Minority Leader Nancy Pelosi (D-CA).

"The time is now for our country to live up to the best traditions of liberty and justice for all," she said, according to USA Today, amid cheers of "Si, se puede," an allusion to President Barack Obama's campaign slogan "Yes, we can."

House Republicans who support the effort gathered together to address the crowd, as well.

"Let's be clear: this is not the first rally we've been to over the years," said Rep. Mario Diaz-Balart (R-FL). "We've heard a lot of lip service and a lot of promises, both political parties have had the chance to solve it, neither have, it's about time we get it done this year."

Activists, who have held many immigration rallies in recent years in Washington, vowed to press on no matter how much Congress stalls on the issue.

"In today's America 11 million people who are Americans in all but paperwork want only what immigrants to our country have always wanted: the dignity and respect that comes with recognition and citizenship. We will keep turning up the heat until our lawmakers see the light," said Frank Sharry, executive director of America's Voice.

Following the speeches, rally goers marched to the Capitol building where some blocked traffic in a demonstration of civil disobedience.

The rally pressuring Congress to act follows similar events in more than 100 cities across the nation over the weekend.
You can share this story on social media: