US Senate passes immigration reform bill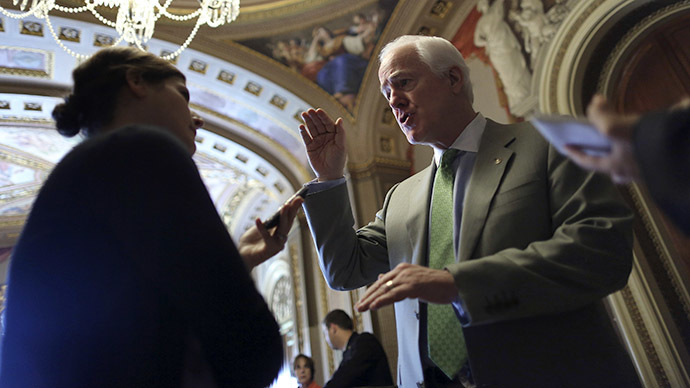 The United States Senate approved a landmark immigration bill Thursday afternoon after lawmakers in Washington voted 68-to-32 in favor of the Border Security, Economic Opportunity and Immigration Modernization Act of 2013.
The Senate put its collective support behind the bill, a bipartisan effort that has been at the center of discussion on both sides of the aisle since it was introduced in Washington in April of this year.
Should the bill clear both chambers of Congress, President Barack Obama will be asked to ink his name to a comprehensive immigration reform bill that will provide new opportunities for unlawful residents to stay in America legally, while at the same time pumping millions of dollars into the United States' border with Mexico in an attempt to limit the influx of illegal aliens.
"We're on the edge of passing one of the most significant pieces of legislation that this body has passed in a very long time," Sen. Chuck Schumer (D-New York) told Senate colleagues on Capitol Hill Wednesday. "The vast majority of members in this body realize that the immigration system is broken and needs fixing."
Early Thursday morning, every voting member of Schumer's Democratic Party and 14 Republican senators gave the bill a final go-ahead after deciding to end debate on the act's amendments.
"There is no reason after these votes today to delay this," added Senate Majority Leader Harry Reid (D-Nevada). "We're poised to pass a historic immigration bill. It's landmark legislation that will secure our borders and help 11 million people get right with the law," he said
If the bill passed today by the Senate is signed into law by Pres. Obama, millions of presently illegal immigrants would be granted lawful status to stay in the United States. Currently around 11 million residents of the US reside there illegally, and new mechanisms would provide a pathway for citizenship in many cases, albeit not without hurdles. Illegal immigrants would be required to pay Uncle Sam back taxes before being presented with permanent legal status, a measure which is expected to bring in nearly one trillion dollars during the next 20 years. Additionally under the bill, 20,000 new Border Patrol jobs would be created and a 700 mile fence would be erected on the US/Mexico border. Businesses would also have to check on the legal statuses of prospective employees, and lower-skilled and farm workers would be admitted legally into the US under only a temporary program.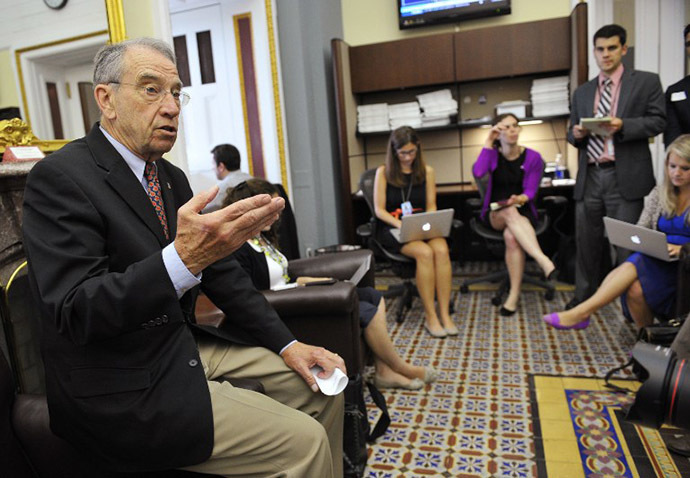 That morning decision set the stage for a 4 p.m. vote, which ended as predicted with the Democrat-controlled Senate signing off on the bill which will next be sent to the House of Representatives. Once that chamber and its Republican majority have its hands on the act, however, the bill is expected to stall and come short of ever being sent to the White House.
Sen. Mike Lee (R-Utah), an outspoken opponent of the act, said Thursday that "Today's vote is largely symbolic."
Other Republicans who spoke up early Thursday include Senate Minority Leader Mitch McConnell (R-Kentucky), who said he'd be casting a ballot against the bill "with a great deal of regret." Sen. Saxby Chambliss (R-Georgia) was not able to have his amendments involving agricultural workers tacked onto the bill and said Thursday he was left feeling "terribly disappointed and frustrated."
At the same time, however, GOP support on the act has so far surpassed what pundits had predicted. Both votes in the Senate on Thursday suggest that the Republican Party is willing with some degree to work towards immigration law reform, and the securing of more than a dozen GOP lawmakers could put the pressure on the rest of the party to act swiftly in adopting a bill that'll suite the Senate version.
Of particular contention among GOP lawmakers is the balance between amnesty for currently illegal immigrants and what some have called the militarization of the US/Mexico border. More hawkish conservatives are calling for a bill that will focus more heavily on securing the Mexican border, whereas Democrats seem content with their current plan, which will indeed bring added fortification while also emphasizing a program that will allow illegal aliens to stay in the US.
On Thursday, House Chief Deputy Whip Peter Roskam (R-Illinois) told reporters that the current bill is a "pipe dream" and said, "Our conference is all about trying to get a deal with a secure border."
"Once there is a level of confidence on a secure border then you can deal with moving forward on these other elements," Roskam said.
The last time Congress was asked to rewrite federal immigration laws came in 2006, but that attempt died in the Senate before ever being sent to the House. Rep. John Boehner (R-Ohio), the speaker of the House, said his chamber will ignore the Senate approved-bill and will draft its own version that will more heavily emphasize border security.
"Apparently some haven't gotten the message: The House is not going to take up and vote on whatever the Senate passes. We're going to do our own bill -- through regular order -- and move the legislation that reflects the will of our majority and the will of the American people," Speaker Boehner said during a Thursday press briefing.
You can share this story on social media: