Walmart protesters arrested in cities across US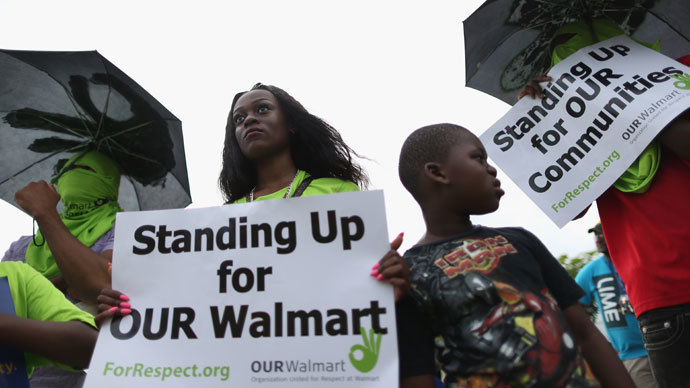 Walmart protesters launched scattered demonstrations across the US on Thursday in an attempt to bring attention to what they say is the company's refusal to pay employees a livable wage and to urge the halting of ongoing illegal employment practices.
Police dispersed crowds in multiple cities, arresting workers and supporters participating in the largest anti-Walmart rallies since November 23, 2012. 
Demonstrators in New York City were arrested while trying to deliver a petition directly to board member Christopher Williams at his office on Fifth Avenue in Manhattan. The petition demanded that Walmart begin providing workers with an annual wage of $25,000 and enact policies that better protect workers against discrimination.    
Three workers, from a group of approximately 20 people, were detained and charged with disorderly conduct for trespassing and blocking the entrance to the building. 
The protests come just weeks after an assembly of Walmart workers demanded the reinstatement of 20 employees who were allegedly fired for participating in strikes in early June. Our Walmart, a union-backed members group, told The Guardian that it has filed over 100 unfair labor practice charges against the big-box store with the National Labor Relations Board. Walmart's corporate board said it was investigating "several cases."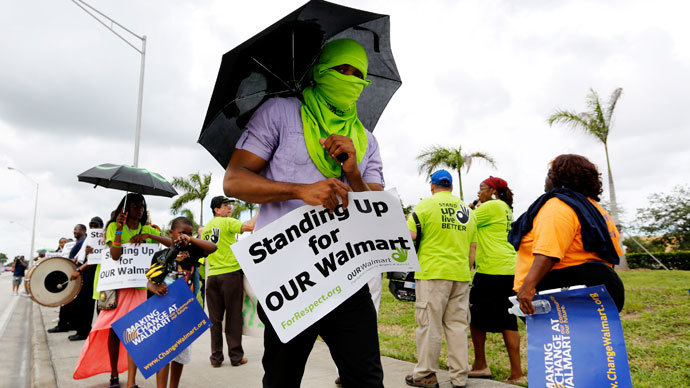 Walmart spokesperson Kory Lundberg told the Huffington Post that the protests are "just a show" and do not affect the company's morale. The corporation has denied any wrongdoing. 
"With very few exceptions, the cast members don't work for Walmart nor are they affiliated with the company in any way," Lundberg said. 
Hundreds gathered outside the Four Seasons hotel in Los Angeles where Yahoo CEO and Walmart board member Marissa Mayer lives in a Penthouse apartment. 
A SWAT team arrested peaceful protesters in Renton, Washington, located just outside Seattle. Officers donning riot gear and armed with large rifles encircled a group gathered in the streets – a technique used throughout the Occupy movement to prevent photos from being taken.  
SWAT team arresting #WalmartStrikers in Renton @weareoneamericapic.twitter.com/A4aRSFqgpD

— Rahwa (@RahwaOA) September 5, 2013
The civil disobedience - which was also reported in Chicago, Boston, Sacramento, Miami, and Dallas – follows a string of fast food protests in which employees of major chains demanded higher wages. More events are expected in the coming weeks in Washington, where the city council recently passed a bill requiring major chains to pay workers at least $12.50 an hour. 
Barbara Collins, who says that she was fired from Walmart for participating in a strike, penned an article for Salon.com ahead of the protests, explaining why she was willing to be arrested.
"Don't get me wrong – I love[d] my job and my customers. But no matter how hard I worked, I still didn't make enough to afford even basic necessities like food, rent and clothing for my kids," she wrote. 
"And despite the years I've invested there, I was never guaranteed 40 hours a week. Sometimes, I was scheduled as few as eight hours a week. I had to visit three different local food banks once a month just to feed my family. Eventually, I had to turn to food stamps."
You can share this story on social media: