Good Samaritans help catch WW2 veteran's robbers
Published time: 31 Jul, 2012 15:58
Edited time: 31 Jul, 2012 19:58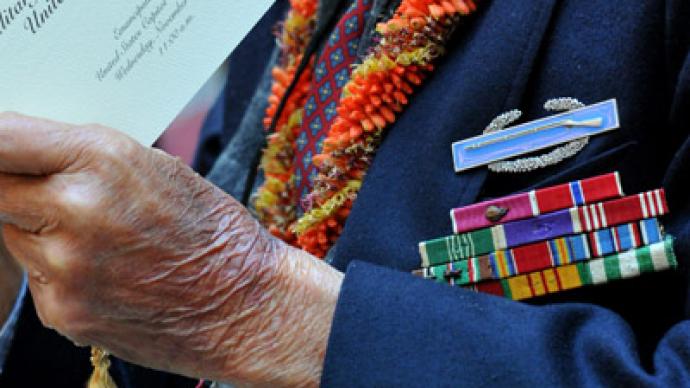 An 87-year old World War II veteran was attacked and robbed by three young men who shattered his glasses, knocked out his hearing aid and broke his dentures. But two witnesses followed the suspects, leading to their arrest.
The three robbery suspects, aged 15, 17 and 20, jumped Porter B. Cross near a store just a few blocks from his home. The old man, who will turn 88 on Thursday, was returning from his weekly walk to buy lottery tickets.
"It's the one day of the week he goes out and gets his exercise,"Cynthia Steward-Jones, the daughter of the victim, told the Chicago Tribune. The World War II veteran was a seaman who also worked for the US Postal Service for 36 years.
But the attack, which left him with a bruised eye and a laceration under the other eye, left the old man disappointed with the country that he served so long.
"They broke his glasses in his face and his dentures in his mouth,"said Steward-Jones."They knocked his hearing aid out and his face is really swollen."
The three men stole his wallet, which contained all of his valuables, except for the lottery tickets the man had just purchased.
"I'm just so disappointed,"Cross told his daughter."I've served this country and I've done all the right things. I've lived my life like I was supposed to and this younger generation is just something else… They're just losing their mind."
But the attack caught the attention of two delivery men making a meat delivery nearby. Witnessing three men go through the pockets of an old man lying on the ground, the delivery men got in their truck and followed the suspects.
"Once I saw it was an old man on the ground, I called the ambulance and I told them they needed to call the police,"one of the delivery men told the Chicago Tribune.
"I followed them about four blocks until police got there. I kept my distance so they wouldn't know. I just happened to be in the right place at the right time,"he said.
If the two good Samaritans hadn't taken action, it is likely that the suspects would have escaped, said Steward-Jones.
While Cross is recovering in the hospital, his daughter says that he is saddened by the actions of the younger generation, but also touched by the kindness of strangers.