Man dies after being assaulted by cops; officers placed on paid leave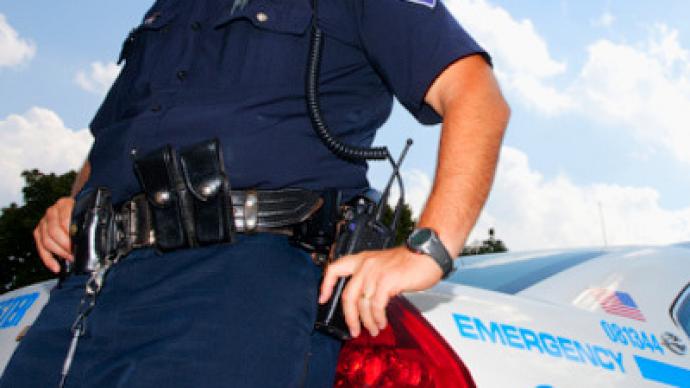 Five months after cops in North Chicago, Illinois violently arrested an unarmed man only for him to die from his injuries days later, the city's mayor has announced that seven police officers will be placed on paid administrative leave.
The seven North Chicago officers linked to the November 13 death of 45-year-old Darrin Hanna were sent home with pay this week as authorities consider if any further disciplinary action should be taken by the police force. The officers in question have been on desk-duty for the five months since Hanna's passing and will now indefinitely be off the beat until a decision is made. In the interim, however, Tristan Borzick, Jason Geryol, Gary Grayer, Marc Keske, Arthur Strong, Brandon Yost and Sgt. Salvatore Cecala will all continue to receive full pay.North Chicago, Illinois Mayor Leon Rockingham Jr. announced the news at a press conference on Tuesday. Only days earlier, the Reverend Jesse Jackson had led a rally outside the Windy City asking for the mayor's resignation over his lack of action in the case."The criminals who engaged in this activity are still policemen. They still have a badge, and a gun, and authority," Jackson said at this weekend's rally, reports WGN News. Jackson also equated the death of Hanna with another controversial case in the news as of late; "We had Trayvon in Florida, and now Darrin in North Chicago," Jackson said. On Friday last week, the US Department of Justice said that it is now investigating the incident and will soon decide if a formal probe will be necessary to dig deeper into the events that led to the death of Hanna last year and if the officers should be held accountable for their actions. Responding to the DoJ's news, Mayor Rockingham said he was in favor of a resolution that he hoped would "possibly calm the community."Police were dispatched to investigate a domestic abuse complaint at a North Chicago home last year. According to the officers that responded to the call, Hanna rushed them with clenched fists, prompting them to respond with batons and Tasers. Although the cops claim that their stun guns were only used two or three times, an autopsy identified 11 Taser scars on Hanna's back. A week later, Hanna died. According to the Lake County coroner's office, physical restraint and Taser shocks were both factors in the man's death. Evidence of cocaine use was also uncovered, report says.Authorities allege that Hanna was attempting to injure his pregnant girlfriend when authorities responded. On Monday, attorneys for six of the officers released a news bulletin supporting their clients."North Chicago police saved the lives of (Hanna's girlfriend) and her unborn child and they acted appropriately when her cocaine-abusing assailant aggressively resisted arrest," reads this week's statement from the offices of the DeAno & Scarry law firm.The Chicago Tribune reports that all seven officers will stay on administrative leave until the department decides if disciplinary action is necessary. Reverend Jackson has publically called the cops' current situation a "paid vacation.""We plan to stay until reasonable justice has been done," Rev. Jackson told a crowd at North Chicago's First Corinthian Church on Friday, where he also asked ralliers to sleep outside City Hall in protest.
You can share this story on social media: