FOX pundits support democracy, sometimes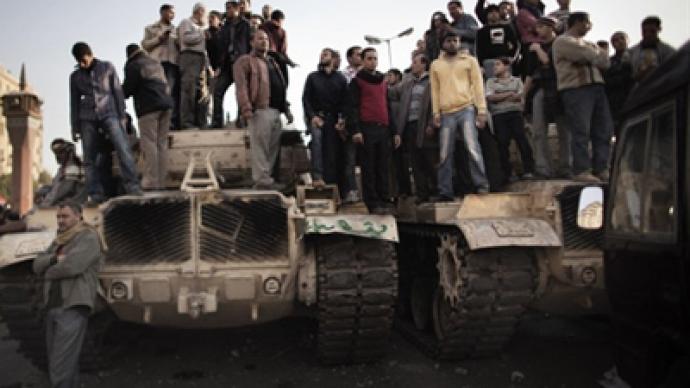 Violence has erupted between protesters and armed pro-government activists in Egypt, leading many to conclude Mubarak's reign is near its end. But, what will replace him?
Protests continue across Egypt, with continued calls for Egyptian President Hosni Mubarak to step down and bring about democratic reforms. Protesters were not satisfied with his dismal of the government alone, or his promise not to seek reelection. With the spike in violence and rise in protests it has became more evident Mubarak will eventually be removed from power, the question remains however what or who will replace him. Many conservatives in the US are worried change could bring about a radical Islamist government. They oppose such an option at all costs, even if it is democratically elected. Right leaning FOX News, owned by News Corp., is all too happy to promote American imperialistic ambitions when it comes to protest coverage in Egypt, highlighting conversations with conservatives John McCain, Tucker Carlson, and others."It's possible in a country like Egypt, also in a country like Saudi Arabia, also in a county like Pakistan, if you left the majority of people decide the form of government they would wind up with a wacko anti-western, anti-democratic repressive government. What's the point," Carlson said."Now we have to make sure that a new election is free, fair, open, honest and that radical Islamic candidates or platforms are exposed for what they are," McCain said. The pundits are saying, "We want democracy as long as the people we want win," explained David Swanson, an activist and the author of War is a Lie. "Which is of course not democracy."A lot of the fearmongering about Egypt does not line up with facts, he explained. "Egypt is very unlikely given popular rule to turn into a radical theocracy," Swanson commented. "These guys, Carlson and McCain, would have said the same thing about Al Gore and John Kerry when we elected them in this country. These are not people who respect democracy. These are people who see radical fanaticism in anybody who disagrees with them." In addition to spin, FOX News opted to cut away from live Egypt coverage in order to promote the launch of News Corps' "The Daily," a new pay service iPad application.
You can share this story on social media: