So long 'little white fence': Young adults redefine American dream
Published time: 28 Jun, 2012 17:23
Edited time: 28 Jun, 2012 21:23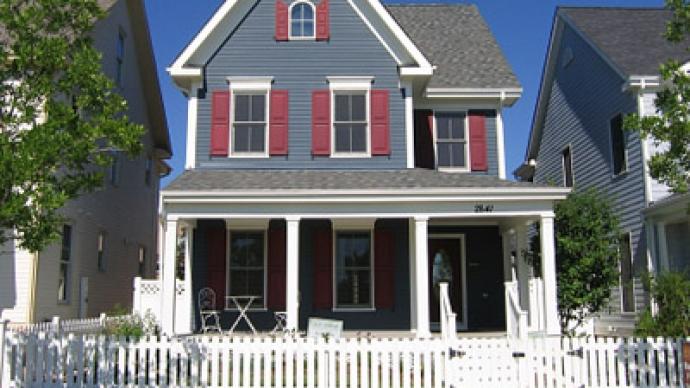 Seems like a house with a white fence no longer constitutes the American dream. A new census reveals that, due to the harsh economic conditions, more young adults are choosing to stay in urban areas, rejecting family life with kids in quiet suburbs.
­A recently-published 2011 census has documented a historical switch showing that America's largest cities are now growing faster than their surrounding suburbs. Primary cities in large metropolitan areas with populations of more than 1 million grew by 1.1 per cent last year, compared with 0.9 percent in surrounding suburbs.
New Orleans saw the biggest rebound in city growth relative to suburbs in the last year, with 3.7 percent and 0.6 percent respectively. Atlanta, Denver and Washington DC are among other cities demonstrating significant city growth compared to suburbs.
The switch is largely due to the number of young adults staying in urban areas. Overwhelmed with paying their college loans and at the same time struggling to find a job amid record high unemployment rates, "generation rent" is putting dreams of house ownership on hold, choosing instead affordable urban apartments.
The benefits of urban living for young adults are clear: short-term leases, public transport and proximity to the workplace.
"I will never live in the suburbs," 28-year-old Jaclyn King from Denver told the Associated Press. "I just like being connected to everything down here: concerts, work, restaurants, all of it. This is where everything's at," she explained.
However, for some it is not a matter of personal preference rather a result of their poor economic standing and toughening mortgage rules. 

Katherine Newman, a sociologist and dean of arts and sciences at Johns Hopkins University, who is studying the financial struggles of young adults, said they are emerging as a new generation of renters due to stricter mortgage requirements and mounting college debt.

According to her findings, from 2009 to 2011, just 9 per cent of 29-to-34-year-olds were approved for a first-time mortgage.
"Young adults simply can't amass the down payments needed and don't have the earnings,'' she told AP, adding that these young people will be renting "for a very long time."
Apartment developers are taking notice and are seeking to boost their appeal to the demographic of 18-to-29-year olds. The planners and developers are betting on young Americans' continued interest in urban living, sensing that some longer-term changes such as decreased use of cars may be next.
The last time growth in big cities surpassed that in surrounding areas was registered in the first decades of the last century, before the rise of the automobile industry, which stimulated expansion into the suburbs.