Hundreds of US soldiers pocketed 'tens of millions' of dollars in fraud scandal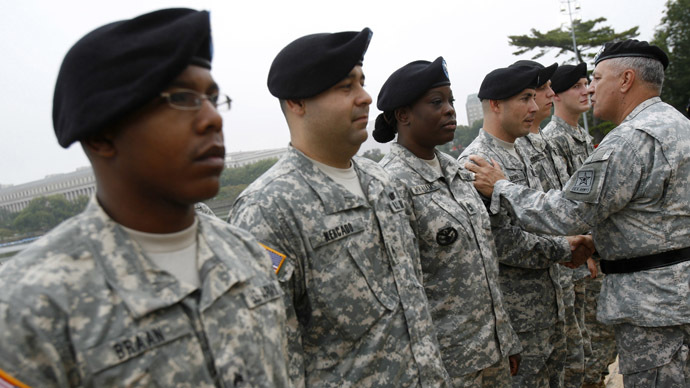 Hundreds of US soldiers are under investigation in the US for allegedly embezzling "tens of millions" of dollars using a National Guard fund. Lawmakers have called the investigation one of the largest in US army history.
An Army audit revealed that American soldiers had been pocketing millions of dollars from a National Guard fund, which gives bonuses to troops that recruit their friends into the Army. The audit found that at least 1,200 recruiters had lined their pockets with potentially fraudulent pay outs, while another 2000 had received "questionable payments."
As part of the investigation, 800 soldiers are currently being screened to ascertain whether they committed fraud, reports USA Today.
Senator Claire McCaskill said that the fraudulent payments total "tens of millions" of dollars with one soldier reportedly embezzling $275,000.
"This is discouraging and depressing," said McCaskill in an interview with CBS News. "Clearly, we're talking about one of the largest criminal investigations in the history of the Army."
She went on to say that one of the main flaws in the system was the complete lack of controls to safeguard the funds.
"At the end of the day if you're going to set up a system where you're going to give people thousands of dollars for helping sign someone who's willing to become a member of the National Guard, you've got to make sure you've got basic controls in place," said McCaskill who will take part in a Senate Homeland Security hearing on Tuesday to deal with the issue.
The Army National Guard Recruiting Assistance Program was created in 2005, with the aim of filling out the thinning ranks of soldiers to meet demands for more manpower in conflict zones in Afghanistan and Iraq. The initiative rewarded soldiers who succeeded in persuading their peers to sign up with bonuses from $2,000 to $7,500.
Although the program succeeded in its principle aim of boosting troop numbers, authorities began registering cases of fraud in 2007. As a result, the program administrator called for an initiative-wide audit by the Army's Criminal Investigative Command (CID).
A number of military personnel have already been charged with fraud. In December of last year a colonel and a sergeant in the National Guard were charged on nine counts of defrauding $12,000 in connection with the recruiting program.
Moreover, lawmakers fear the scandal is not only confined to the National Guard, as the recruitment initiative spawned copycat programs in the active Army and Army Reserve.
You can share this story on social media: