US Commerce secretary investigated for felony hit-and-run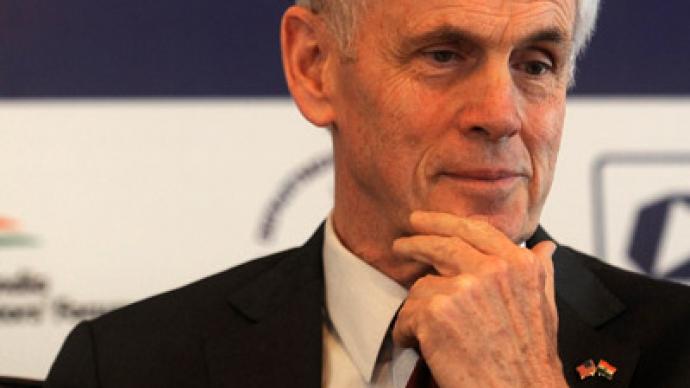 One of US President Barack Obama's top appointees is facing felony charges after being involved in two separate crimes this weekend only minutes apart.
US Secretary of Commerce John Bryson, 68, has been cited for felony hit-and-run after his automobile was linked to a pair of crashes in Southern California Saturday afternoon. A spokeswoman for the Department of Commerce tells reporters on Monday that Mr. Bryson suffered a seizure behind the wheel which triggered the crashes, although witnesses claim that the secretary was indeed quite conscious during at least the first half of this weekend's events.Authorities with the San Gabriel, CA Police Department say that Bryson's Lexus first collided with a car stopped at a railroad crossing, after which the secretary exited his vehicle and confronted the passengers of the first automobile. On leaving the scene, however, the secretary smashed into the car again. The drivers of the first car then followed Mr. Bryson down the road while phoning in to the authorities. When officials caught up with Mr. Bryson five minutes later, he had reportedly already hit another vehicle.Authorities say that drugs or alcohol are not believed to have played a role in the events, nor when exactly the alleged seizure took place.According to the police report, he was "alone and unconscious behind the wheel of his vehicle" when they located him after the final crash. Minutes earlier, however, Mr. Bryson was awake and alert when he confronted the victims, they claim.Mr. Bryson was examined and released from an area hospital after the alleged seizure, and two of the victims in the first collision were treated for minor injuries as well. The Los Angeles Times reports that the secretary was not arrested because he was admitted to a facility for treatment. By Monday, however, Bryson had already returned back to Washington, DC. Speaking to CBS This Morning early Wednesday, Obama strategist David Axelrod told reporters, "This news broke overnight, so I don't really have anything to contribute to that," adding, however, "Obviously it's concerning."An official from the Commerce Department office adds to ABC News on condition of anonymity that Bryan "was on personal time with no security detail. He was driving his own vehicle. He was given medication to treat the seizure."