Dear John: US police use public humiliation to fight prostitution
Published time: 14 Oct, 2012 20:11
Edited time: 16 Oct, 2012 13:37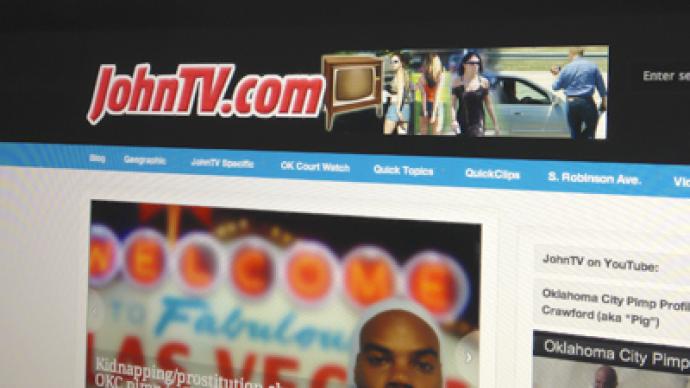 Hiring a prostitute is no longer an anonymous act: men who pay for sex now face public humiliation as a form of punishment. Throughout the US, authorities are publicly revealing johns' identities by plastering their names and faces all over town.
A National Institute of Justice study involving interviews and surveys of police officers at 200 departments found that most believed this form of embarrassment to be the most effective way to reduce prostitution.
"What they usually ask is, 'Is my wife going to find out? Is my boss going to find out? Is my name going to be in the paper?'' Michael Chively, who conducted the study, told AP. The study, which began its interviews in 2008, found that those who paid for prostitutes feared publicity more than fines or jail time.
It concluded that the most effective way to curb prostitution is to target demand, going after prospective customers instead of seeking out the supply side – the prostitutes.
"Where demand is strong, interfering with supply chains usually results in shifting to other sources or other means of distribution," the report states. "The 'service gap' is too great to close by addressing supply only."
And this method is being applied to the high-profile case involving Maine fitness instructor Alexis Wright. The 29-year-old ran a prostitution business out of her dance studio, secretly videotaping her encounters and meticulously keeping track of her customers – which allegedly number more than 100.
The prosecution is in possession of more than 100 hours of video and 14,000 screen shots from seized computers, according to Deputy District Attorney Justina McGettigan.
Officials claim to have a list of more than 150 alleged customers. Police last Thursday announced plans to release the names to the public.
"It'll be interesting to see who's on that list, because we're hearing that there are selectmen, there are policemen, that there are firemen – people that we're going to know in town," local resident Elaine Nicholson told AP. "So everyone is, like, waiting with bated breath."
A lawyer for two of the Maine woman's clients on Friday blocked the release – for now. But police plan to gradually release more than 100 names over the next few weeks.
Public shaming is not an uncommon practice. In Fresno, California, a website called Operation Reveal features mug shots of suspected johns. Oklahoma City has a "JohnTV" and in Arlington, Texas, a highway billboard features photographs of prostitution client suspects with the caption, "This could be you."
The National Institute of Justice found that 60 percent of US police departments publicize the identities of people who buy sex. The organization is in the process of creating a map that will allow users to click on a US region and see the list of resident johns.
Other shaming techniques include mailing "Dear John" letters to suspected clients and requiring attendance in anti-prostitution classes.
"The chance of a completely innocent person having their life destroyed [is] astronomical," Albany Law School professor Laurie Shanks told AP. "It was worse than the scarlet letter. At least the scarlet letter happened after the trial. It's closer to branding, where you can't take it off once the harm has been done."
But supporters of shaming techniques continue to emphasize its effectiveness in discouraging the buying of sex.
"We have to move away from the 'Pretty Woman' model and towards understanding that prostitution's pretty ugly," said Norma Ramos, executive director of the Coalition Against Trafficking in Women.