Secret Service linked to yet another prostitution scandal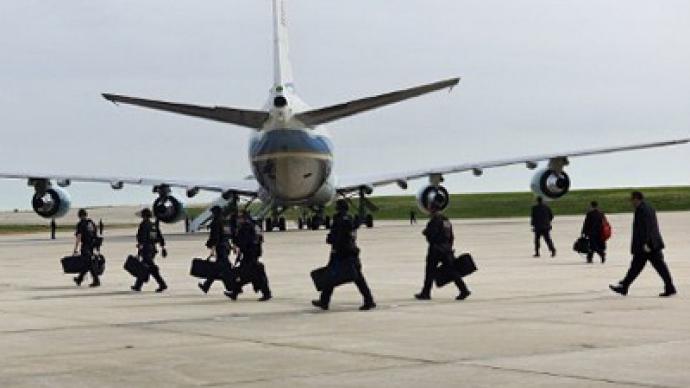 Reports surfaced on Wednesday out of Washington that a separate investigation is being launched in order to examine allegations that the US Secret Service is involved in yet another prostitution scandal.
Maybe they just really enjoy paying for sex.Speaking on condition of anonymity, a US government contractor who worked with the Secret Service last year tells reporters that that there was a separate incident involving the president's personal security force and foreign sex workers even before the recent scandal out of Colombia. According to a report from Seattle TV station KIRO, the source claims that around a dozen Secret Service agents may have engaged in inappropriate behavior in March 2011 while on assignment in El Salvador.The source says several Secret Service agents as well as US military specialists on assignment in the capital city of San Salvador drank heavily at a strip club, then paid admission to the bar's VIP section where further sexual services could be purchased in the days before the presidents' visit.Additionally, the source alleges to the news network that Secret Service agents "did this all the time" and told their peers "not to worry about it."Speaking to KIRO, the owner of the gentlemen's club in question confirmed the accounts. The proprietor says his establishment has developed a reputation for both "security" and "privacy," and thus has been a regular watering hole for "those who want to be discreet." Regarding the 2011 incident, the owner says to KIRO that he recalls both Secret Service officers and military escorts coming to his bar at least three nights in a row.The news came one day after US Homeland Security Secretary Janet Napolitano told a congressional panel that she believes the Secret Service sex scandal stemming from a visit earlier this month to Colombia was an isolated incident."It really was, I think, a huge disappointment to the men and women of the Secret Service to begin with, who uphold very high standards and who feel their own reputations are now besmirched by the actions of a few," Napolitano said on Tuesday from Washington. The secretary also added that evidence of a pattern of similar behavior would "be a surprise" to her.Responding to the Washington Post over the breaking news, an additional officer with the Secret Service speaking anonymously says that there is currently an investigation into the matter and that superiors "have taken action regarding the agents."Addressing the latest scandal, Secret Service spokesman Max Milien said in a statement released Thursday to the media that "Any information that is brought to our attention that can be assessed as credible will be followed up on in an appropriate manner."The first incident out of Colombia linked several Secret Service agents to prostitutes at Hotel El Caribe in Cartagena, where they had been on assignment in the days before President Obama was to attend the Summit of the Americas conference. As of Thursday, eight officers within the agency have either left by their own accord or have had their positions terminated. An additional 12 members of the US military have been linked to that scandal as well.President Obama has publically condemned the behavior of the agents linked to the sex scandal in El Salvador, where prostitution is legal in many parts of that country.
You can share this story on social media: