​Struggling US Postal Service looks to bitcoin for new revenue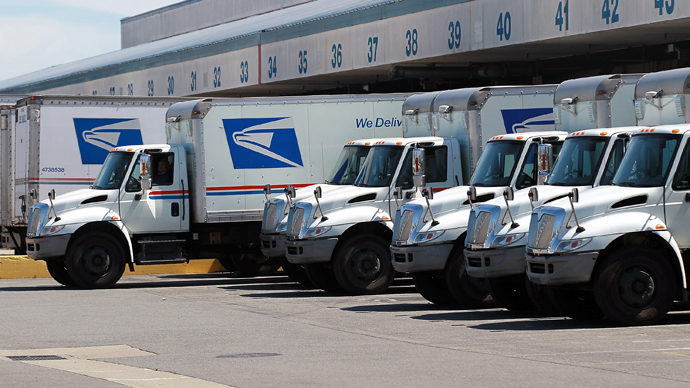 Amid a rise in popularity of cryptocurrency, the financially floundering US Postal Service is considering the possibility of adding a bitcoin exchange to its current roster of non-bank financial services.
The USPS Office of Inspector General (OIG) led a webinar last week on bitcoin and other digital currencies to "explore the possibilities" of setting up bitcoin and other digital-currency exchanges at post offices as a means of boosting revenue. The event included representatives of the Federal Reserve Bank of Chicago, Booz Allen Hamilton, and the World Bank, among others, MainStreet reported.
The OIG also discussed the possibility of creating a "postcoin" as a USPS-specific digital currency.
"There were suggestions like if someone made 'postcoin,' 'What would that be?' 'How could that help?' If we were to employ the technology to support post office operations around the world, internationally, how could crypto currency help post offices do their business?" Darrell Duane, a bitcoin consultant who was involved in the webinar, told online digital currency site CoinDesk.
In addition to the webinar, the USPS OIG released a report covering the possible benefits of providing other non-bank financial services, including replenishable prepaid debit cards, savings accounts, and payday loans.
"The Postal Service already provides non-bank financial services like money orders and international money transfers, and many American families could benefit if the Postal Service expanded its offerings," the OIG said in a statement.
Should the USPS decide on entering the cryptocurrency world, it has a built-in advantage considering it is already licensed to provide related services, like money transmitting.
"Around the world, financial services are the single biggest driver for new revenue for postal operators, and the conditions may be ripe for similar success for the U.S. Postal Service," the USPS OIG said. "If just 10% of the money underserved Americans currently spend on alternative financial services were instead spent on more affordable products from the Postal Service, it could generate some $8.9 billion in new revenue."
The search for alternate revenue streams for USPS in an era of relative austerity in the US comes as its core business has conceded much ground to internet based communications. The majority of bills are now paid online, and letter writing has gone down by 25 percent since 2010. The USPS costs the federal government $15.9 billion a year to operate.
Just one day prior to the USPS webinar, New York State's top banking regulator announced plans to create regulations that will guide virtual currency firms that operate in the state, possibly requiring them to hold a "BitLicense."
Benjamin Lawsky, New York's Superintendent of Financial Services, said such regulatory guidelines would seek to bar misconduct like money laundering while not cornering in booming cryptocurrency technology. His comments came during the start of hearings this week - organized by the New York Department of Financial Services - on the future of online currencies.
"Ultimately, it's our expectation that the information we've gathered in this fact-finding effort will allow us to put forward, during the course of 2014, a proposed regulatory framework for virtual currency firms operating in New York," Lawsky said in his statement, according to MarketWatch.
You can share this story on social media: