US suspends hundreds of millions in military aid to Egypt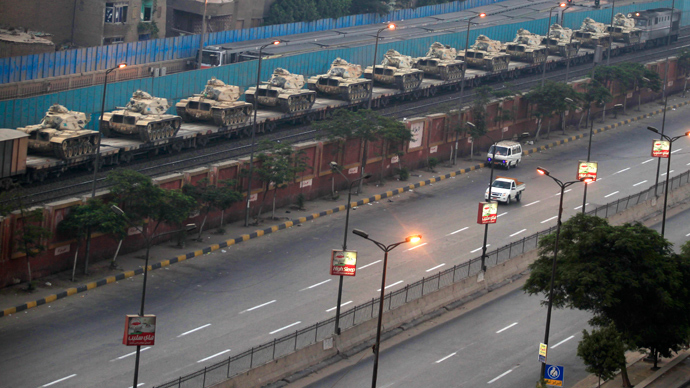 The United States has suspended a large part of its military and other cash aid to Egypt, the State Department said. The US has put on hold delivery of "large scale" military systems, such as tanks, F-16 jets and Apache helicopters, a source told Reuters.
In a press release, the US State Department said that as a result of the review directed by President Obama the decision has been made to "recalibrate" assistance to Egypt to best advance mutual interests. The US will still provide military training and education as well as assist with counter terrorism and help securing the Sinai.
"We will, however, continue to hold the delivery of certain large-scale military systems and cash assistance to the government pending credible progress toward an inclusive, democratically elected civilian government through free and fair elections," the release says.

The decision does not mean Washington is severing ties with the country, US Secretary of State John Kerry stressed.

"The interim government understands very well our commitment to the success of this government, which we want to see achieve and by no means is this a withdrawal from our relationship or a severing of our serious commitment to helping the government," Kerry told reporters.

The Congressional source spoke with Reuters after members of Congress were briefed by US State Department officials about the administration's plans to cut off part of the massive aid package to Egypt.  Besides heavy military equipment supplies the US is also cancelling the delivery of Harpoon missiles.

A planned $300 million loan guarantee for Egypt will be halted, as well as a pending $260 million cash transfer, the source added.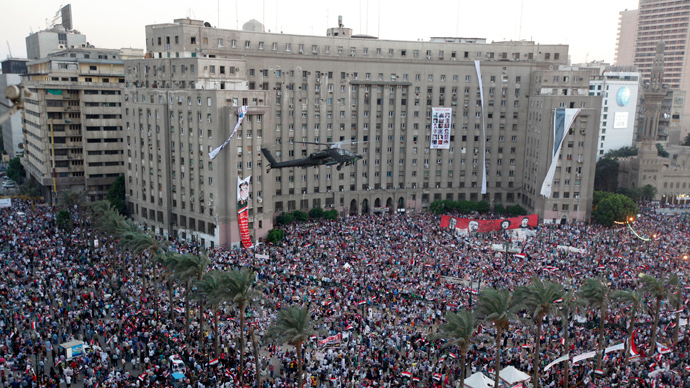 Egypt, which is the second-largest recipient of US military aid behind Israel, criticized the US over its cut in aid, saying it was a "flawed decision in terms of content and timing."

"It raises serious questions over the United States' readiness to provide strategic support to Egypt's security programs," the Egyptian Foreign Ministry said.

"Egypt will not surrender to American pressure and is continuing its path toward democracy as set by the roadmap," ministry spokesman Badr Abdelatty told a private Egyptian radio station.

The Cairo government said it would "continue to take decisions regarding its domestic affairs with full independence and without foreign pressure."

Others, however, did not think the reduction of US military aid would significantly alter American-Egyptian relations.  

"I think it will not make a big difference and this decision will be revised probably in three or four months because both parties need each other," the head of the Egyptian Liberal Social Democratic Party, Mohamed Abou El Ghar, told USA Today. 
Defense Secretary Chuck Hagel has reportedly called Egyptian army chief General Abdel Fattah al-Sisi to inform him of the developments.

On Tuesday, the US government announced it was planning to make public the future its "assistance relationship with Egypt" after a number of media outlets suggested the US was cutting all military aid to Egypt.
"The reports that we are halting all military assistance to Egypt are false," US National Security Council spokesperson Caitlin Hayden said in a statement. "We will announce the future of our assistance relationship with Egypt in the coming days, but as the President made clear at UNGA, that assistance relationship will continue."
The decision has come three months after the July military coup against Islamist president Mohamed Morsi and the turmoil that removed the Muslim Brotherhood from power in Egypt.  
Although in August, the US already effectively suspended some of the aid by refusing to release a $585 million payment, the administration thus far has not officially recognized the July events as a military coup, as acknowledging that would force the US to stop all military aid to Egypt.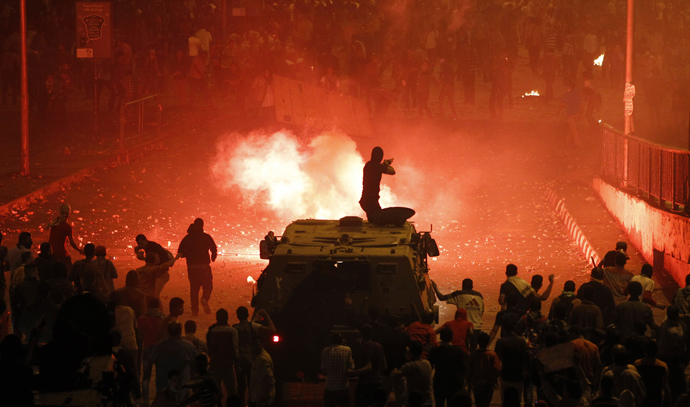 The recent surge of violence has resulted in at least 55 people killed and some 250 wounded since last Sunday. In addition six Egyptian soldiers were killed nationwide in attacks during the celebrations of the 40th anniversary of the Arab-Israeli War.

At least 423 people were arrested in Cairo and Giza in clashes between supporters of ousted President Mohammed Morsi and police, who used tear gas against protesters.

On Wednesday police once again had to use tear gas to disperse a group of demonstrators who were commemorating the Maspero demonstrations during which 25 people were killed in 2011, Ria reports. Scuffles erupted when the rally tried to make it to Tahrir Square, pushing through the police cordon.

Egypt has remained dangerously divided after the military overthrow of the first democratically elected president in July. The coup was followed by a harsh crackdown on Morsi's Muslim Brotherhood movement, along with arrests of its leaders and other officials and an effective ban on its operation in Egypt.


You can share this story on social media: