US to 'announce future' of military aid to Egypt – White House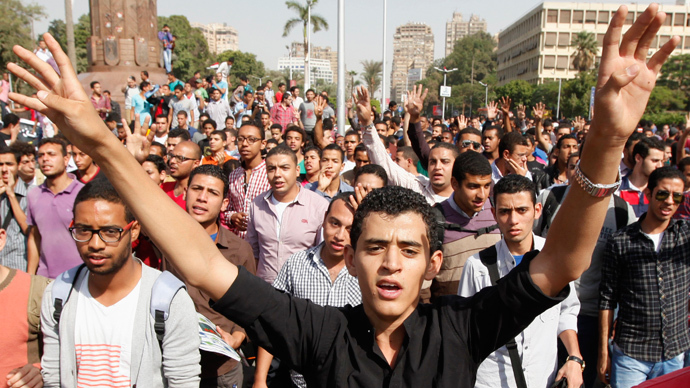 The US is not planning to halt "all" military aid to Egypt, the White House has said, refuting some recent media reports. However, in the coming days the US administration is planning to announce the future of its "assistance relationship with Egypt."
The United States has decided to cut off military aid to Egypt, a US official told CNN earlier on condition of anonymity. The suspension of aid that will come in days was prompted by an "accumulation of events," the source added. 
#BREAKING: US will move to suspend aid to #Egypt due to an "accumulation of events" including recent violence against protesters.

— Ryan Sloane (@RyanSloaneCNN) October 8, 2013
Another source meanwhile told Reuters that the United States is "leaning toward withholding" most of military aid from Egypt except for the funds intended for counterterrorism actions and providing Sinai security, a move termed the defense of Israel. "We will continue to provide funds that are seen to support our national security interest," a US official told WSJ.

A U.S. official says U.S. leaning toward withholding most military aid from #Egypt except for counterterrorism, Sinai security #breaking

— Reuters World (@ReutersWorld) October 9, 2013
An announcement could be made later this week, a second US official told Reuters, noting however that the decision has been repeatedly postponed. It may even come as early as Friday, according to the WSJ source. The US Defense Department meanwhile refused to comment on the issue, telling Al Jazeera that "the Pentagon is not commenting tonight on press reports regarding aid to the Government of Egypt."
Weighing in on the matter the White House has refuted the reports of cutting off "all" military aid to Egypt. 
"The reports that we are halting all military assistance to Egypt are false," US National Security Council spokesperson Caitlin Hayden said in a statement."We will announce the future of our assistance relationship with Egypt in the coming days, but as the President made clear at UNGA, that assistance relationship will continue."
The decision has been made three months after the July military coup against Islamist president Mohamed Morsi and the turmoil that removed the Muslim Brotherhood from power in Egypt. 

Thus far the United States has not officially recognized the July event as a coup, keeping hundreds of millions of dollars in economic and military aid to Egypt intact.
Egypt currently receives $1.5 billion in US aid annually - $1.3 billion of which is designated for the military. However, the country has not yet been officially notified of potential US plans. "We are relying on official statements, official channels of communication. We haven't been informed of anything new with regard to assistance," Egypt's Foreign Ministry spokesman, Badr Abdel Atty, told WSJ.

In August, the US administration quietly suspended most military aid and some forms of economic aid, stating that "no final decisions have been made" but refusing to release the $585 million payment due to Egypt.
Earlier on Tuesday the White House said it was "deeply concerned" by the recent violence in Egypt, with NSC spokeswoman Bernadette Meehan condemning all acts of violence and any "incitement to violence."

The death toll from the recent surge of violence on Sunday has reached at least 55 people with some 250 wounded. In addition six Egyptian soldiers were killed nationwide since Sunday which marked celebrations of the 40th anniversary of the Arab-Israeli War.

At least 423 people were arrested in Cairo and Giza in clashes between police and supporters of ousted President Mohammed Morsi.

In Cairo, Egyptian police fired tear gas to disperse pro-Morsi demonstrators as they marched towards Tahrir Square, where pro-army supporters gathered to celebrate the 1973 war anniversary. The tear gas and birdshot were reportedly used by law enforcement to disperse the crowd. There were also unconfirmed reports of live ammunition being fired as well as beatings of demonstrators by the police. Clashes were also reported in several other cities, including Alexandria, Aswan, and Suez.

Egypt has remained dangerously divided after the military overthrow of the first democratically elected president in July. The coup was followed by a harsh crackdown on Morsi's Muslim Brotherhood movement, along with arrests of its leaders and other officials.

On Tuesday Egypt's interim government revoked the permit for a non-governmental organization set up by the Muslim Brotherhood. The move follows a Sept. 23 court ruling that banned the Brotherhood and its affiliates, and ordered its assets confiscated. The Brotherhood's NGO was registered in March, while President Mohamed Morsi was still in power. The NGO was set up as one of the two main legal faces of the Islamist group, which was outlawed for most of its 85-year existence.