Southwest flight's landing gear collapses on landing at LaGuardia (PHOTOS)
Published time: 22 Jul, 2013 22:36
Edited time: 23 Jul, 2013 09:26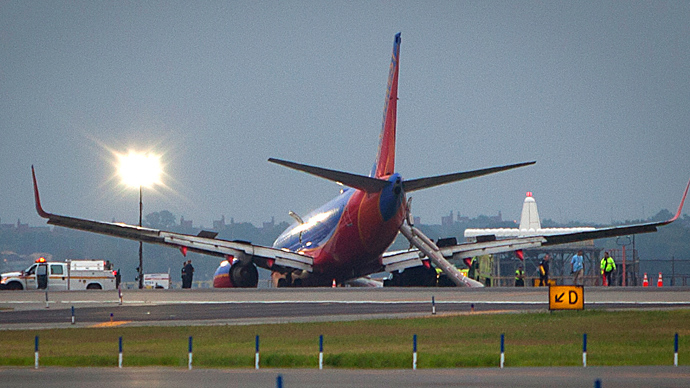 New York's LaGuardia Airport has closed Monday after a Southwest Airlines flight lost its wheels on landing. The landing gear under the nose of the plane, which was arriving from Nashville, Tennessee, collapsed as the aircraft was pulling into the gate.
While at least a dozen emergency vehicles were on hand at the scene, only a small number of passengers reported minor injuries. They were seen exiting the plane via inflatable slides. 
The aircraft reported "possible landing gear issues before landing," FAA spokeswoman Kathleen Bergen told the Wall Street Journal.
Southwest, in a company statement, reported that five passengers and three flight attendants were hurt in the incident, although to what extent is unknown. Officials from the Port Authority or New York and New Jersey, which who operates the airport, said during a news conference that 10 people were treated at the airport and six others were hospitalized.

Heavy delays were reported, with the airport temporarily refusing incoming flights. A Port Authority spokesperson told ABC News that one of LaGuardia's two runways would remain closed indefinitely.
#SW Airlines nose gear collapses on landing at #LaGuardia airport. No serious injuries. pic.twitter.com/57uuj2bjkg

— jim hoffer (@NYCinvestigates) July 22, 2013
"Standby for more information regarding #Flight345 BNA-LGA. We are gathering details and will post a statement soon," tweeted Southwest Airlines. 

JUST IN: PHX resident on flight that landed w/nose gear problems at LaGuardia shared this pic http://t.co/q1yiiMEyLDpic.twitter.com/EYUFBD6qZw

— ABC15 Arizona (@abc15) July 22, 2013
One witness told the local NBC affiliate the landing gear seemed "out of shape, like it wasn't supposed to land that way," before the front wheel "didn't come out, and it landed on its nose and started skidding."

Bright sparks sprouted from under the nose of the plane, according to WFAE reporter Duncan McFadyn, although no smoke or fire followed. Passengers reportedly slid down to the runway 10 to 15 minutes later.  
#UpClose from WABC (@eyewitnessnyc) at LGA: Plane's nose gear apparently collapsed pic.twitter.com/yvSvA36Xsk

— Gio Benitez (@GioBenitez) July 22, 2013
The Federal Aviation Administration reported no injuries as a result of Flight 345's landing, although NBC and other sources said three passengers were hurt. The Boeing 737 was carrying 149 passengers and crew and made its final landing at 5:45 pm EST.