US pressures India to give up Iranian oil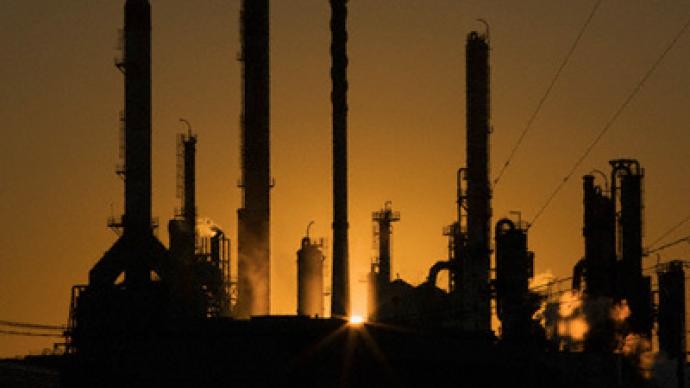 "Anyone but Iran," is what the United States is telling India, as America attempts to persuade the country to go elsewhere for its oil needs.
There are currently no sanctions that would restrict India from continuing to do business with Iran, but any disruption in their relationship could cause the Iranian economy to be impacted significantly. Traditionally, India purchases around 12 percent of all its crude from Iran, a transaction that is worth around $12 billion each year. As the US continues to warn Iran to abandon its nuclear program or face the consequences, America is getting creative in finding ways to get them to crack. Sources close to the matter tell Bloomberg that the US is considering getting involved in India's oil trade and could offer assistance in broker deals with outside suppliers. At least three sources with inside knowledge have discussed the deal with the news outlet, but did so under condition of anonymity as details of the matter are intended to be kept confidential. The US and several European nations have already severed trade ties with Iran, and although India has not, the US is expected to do its best to make sure no oil is shipped east. Before any purchases can aid Iran further, the US is offering to do everything in its power to find alternate suppliers for Iran.According to two of the sources speaking to Bloomberg, Saudi Arabia has offered to take over the role Iran regularly plays in supplying oil to India. Additionally, the US may aid in having Iraq become a new dealer for India. Although the subcontinent does not get all of its oil from Iran, the relationship between the two is a reciprocal one that has expanded as of late. In January, India purchased an average 555,000 barrel of Iranian crude each day, an increase of nearly 40 percent from one month earlier. As that relationship has strengthened in recent weeks, some say that it might take more than just some nudging on America's part to sever ties. Praveen Kumar, an analyst at Facts Global Energy in Singapore, tells Bloomberg that Iran may lower their prices to push crude to India if the US tries to intervene. "This move is going to have an impact and India is going to be hard-nosed in the way they are going to deal with it," says Kumar. "It's turned the situation a little in favor of India, which can potentially use it to get a better deal from Iran."If the US intervenes, they may try to hammer out a deal with their allies that could better suit India. Saudi Arabia said they will aid in providing crude, and currently have a surplus that could be shipped to India with little problem. To Bloomberg, Kumar adds that even if the modern world is indeed equipped with enough oil, fear over the Iranian problem and how it impacts America and its friends can still cause an economic impact based purely on speculation. "It's the psychological impact of the tensions over Iran that is keeping the price up," says Kumar.In America, experts add that the same fear-mongering over the United States' strained ties with Iran is causing prices to go up domestically, even though the US has relied little on Iranian crude in the past. "People are just scared about Iran," independent analyst and trader Stephen Schork tells the Associated Press. "They're concerned about supply.""Speculation is now part of the DNA of oil prices. You cannot separate the two anymore. There is no demarcation," Oppenheimer & Co analyst Fadel Gheit adds to McClatchy News.Goldman Sachs predicts the cost of crude to rise to $123.50 a barrel within 2012.
You can share this story on social media: