Tweets on Trial: Law enforcement subpoenas Twitter account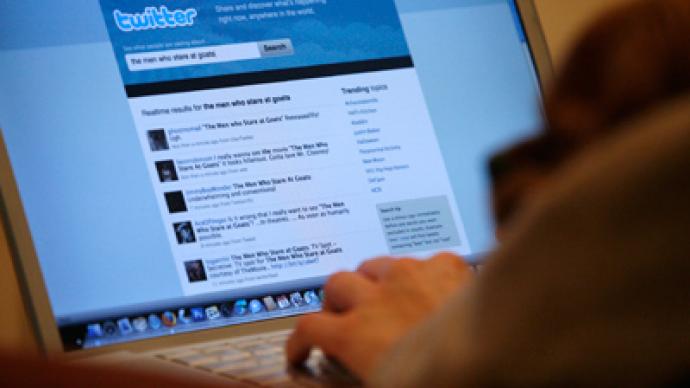 Don't be surprised if more courtroom bailiffs call for a tiny blue bird to take the stand.
Twitter, Inc. was recently named a witness in filings made by the Criminal Court of the City of New York, and the man behind the tweets supposes the trend will only continue."When I saw an email from Twitter Legal in my inbox, I figured it was spam," Malcolm Harris tells Reuters. He found out last month that the Criminal Court of the City of New York had sent a subpoena to Twitter headquarters with a demand for them to deliver "any and all user information, including email address, as well as any and all tweets" that were related to an account Harris had registered with the microblogging site. "Twitter had attached the subpoena, and there was my handle, called by the County of New York to testify against me, the person it represents," Harris writes. The request called for information limited to a brief window in late 2011 and it didn't' take Harris long to figure out what the city was getting at. "My tweets were being called to testify against their creator because on Oct. 1 of last year I was one of more than 700 people arrested on the Brooklyn Bridge as part of an Occupy Wall Street action," acknowledges Harris. The event in question would become a turning point for the Occupy Wall Street movement, which began only weeks earlier down the road in Lower Manhattan. Although authorities in New York and across the US have since used every trick in the book to break the movement — from banning demonstrations in NYC's Zuccotti Square where it started to pulverizing protesters in downtown Washington, DC with the aid of National Parks Service patrol equipped with batons and riot shields — it continues to swell. One reason for the still-resonating movement, most occupiers will tell you, is the Internet. It aided in the Arab Spring uprisings and was shut down by Middle Eastern government then as an attempt to crush protesters' power to spread instructions, information and warnings to others. The US stepped up and condemned the censorship at the time. As Twitter and other forms of online communication prove to be crucial domestically, Harris and his peers are concerned that authorities in America are on the road to ravaging what's left of the free-flow of information that it not only synonymous with democracy, but tied to the same movements that the US endorsed only last year."Reports from Cairo to London to New York show that social media have served an important, sometimes vital, role in helping demonstrators keep safe and organize effectively," says Harris. "That's why the State Department intervened in Iran in 2009, and that's why the District Attorney's office is requesting my records now."Twitter never had to tell Harris that the long arm of the law was interested in the little log of tweets sent from his account. The District Attorney's office had actually included a gag request which, because it was non-binding, the social networking site overlooked. They came clean with Harris who in turn acquired an attorney. Harris remains not all that perturbed over the incident and, given his statement to Reuters, eerily unconcerned over the events thus far. What does cause concern, it would seem, is how the United States is allowing law enforcement to question not just how its citizens engage in legitimate democratic and constitutionally-allowed demonstrations, but how authorities appear angry at how the World Wide Web is encouraging such activity.Harris says he plead not guilty to the charges the NYPD delivered on him from October 1. He was cuffed, detained and dished a charge of disorderly conduct. Even before Twitter involved themselves in the legal battle, Harris fought the charges, "not because I didn't block traffic, but because I believe the march across the bridge was a constitutionally protected form of political speech."Now, Harris says, the District Attorney's office wants to see if his Twitter handle was involved in any 140-character messages that suggest he would indeed have engaged in something deemed disorderly. Twitter users, to the establishment, is spawning an army of revolutionaries that are making manifestos from, literally, the palm of their hands.Harris notes that hacktivists with Anonymous have taken his side and come to the aid of a select few of others who have become subject to similar inquisitions as of late. Additionally, he acknowledges, the National Lawyers Guild, the Electronic Frontiers Foundation and the American Civil Liberties Union have all lent assistance to varying affects. As a court case involving Harris' account (coincidentally, @getsworse) develops, all the aid of the advocates already lending their assistance is going to be needed to keep the government from going any deeper into online doings of people like Malcolm, whose tweets, unfortunately for the Court of New York, aren't anything necessarily writing home about: This week Harris shared with his followers that he fixed his laptop, noticed Spike Lee attended a New York Knicks game and that he got a few drinks with someone whose real name may or may not be Penny Red. Also posted to his Twitted feed, however, are OWS-related news articles. It's already been revealed that various law enforcement agencies of varying levels have singled out specific websites, users and keywords in terms of trying to get to the bottom of illegal activity. While a massive investigation involving the subpoena of a digital account is being conducted to see why an American wants to engage in a legal, political protest, however, citizens are becoming more and more weary of what the government can see — and why they want to see it.Earlier this month, the website JotForm was seized by the United States Secret Service. There was no warning and no explanation. "We will probably never find out the reason for the suspension. It has been a very difficult two days for both our users and for us. So, I hope this is the end," the website would soon after write. In the days after — even after SOPA and PIPA fell apart on the floor of Congress — website admins began cautioning others to move their pages off of American servers. Emails circulated online where administrators cautioned others to use DNS servers outside of America, to sign up with non-US URL registrars and, eventually, to relocate their operation entirely. As RT reported earlier today, the Associated Press has just broke that the NYPD engaged in online surveillance of students at over a dozen US colleges as early as 2006 because, simply, some students were involved in academic groups that consisted of Muslim-American students. Some of those close to the matter have already said they fear openly practicing their religion, but with Twitter accounts and their associated information being seized by authorities, both the freedoms of press and protest are being discouraged now."The biggest danger that comes from this subpoena isn't that it'll help convict me — I don't think a judge will have any trouble understanding what happened on the bridge — but that it will produce a chilling effect and discourage people from using Twitter while protesting," writes Harris. "It's a win-win for prosecutors: Either they use Twitter archives to build cases against demonstrators, or they scare us away from using the platform."As with plug-ins and other walk-arounds developed as SOPA and PIPA emerged from Congress last year, developers are already finding ways to keep online correspondence with Twitter that much more protected. The engineers behind a program packet called CrypTweet recently launched their own protect, which will use highly secure encryption to mask direct messages on Twitter — the tweets that are only meant for two sets of eyes ever."After the treatment that Jacob Applebaum and others have had at the hands of the government of the United States of America, it has become clear that Twitter users require a secure communication channel; one that, even when subpoenaed, would not easily give up its secrets," write the developers of CrypTweet. "The solution is obvious: strong encryption."Applebaum, a reformed hacker and computer security researcher, recently had his Twitter info subpoenaed over his alleged involvement with WikiLeaks. As Harris acknowledged, though, "As far as I or the ACLU know, mine is the first Twitter subpoena related specifically to offline Occupy activities, and though I'm surprised to be singled out, I'm not surprised that officials at different levels can't make up their minds about Twitter."Minds in Cairo and Hamas have figured out Twitter, though. So have thousands of occupiers from Zuccotti Park to Oakland, California and all points in-between. The Boston, Massachusetts Police Department has subpoenaed hash tags (how trending topics develop on Twitter) and journalists have been cuffed and assaulted just for documented demonstrations with their pens, pads and digital cameras. Ever-developing advancements in modern technology and the Internet are consistently touted as the wave of the future. Is a totalitarian police state par for the course as well, though? It's a fight that only time will be able to tell. However it's determined, let's hope for democracy's sake that it involves some heavy-duty encryption.
You can share this story on social media: