Netanyahu calls top US general a servant of Iran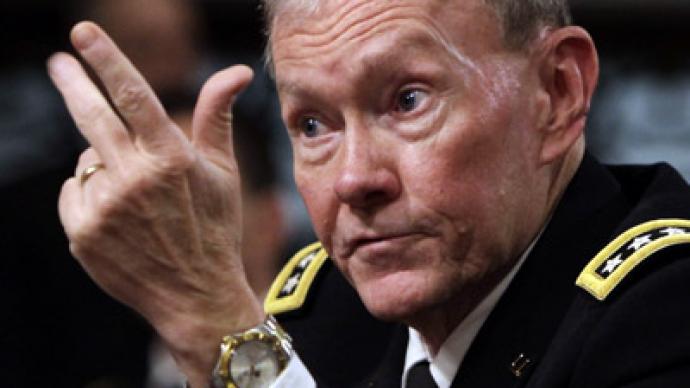 US Joint Chiefs of Staff Chairman General Martin Dempsey made news over this week by calling an Israeli-led attack on Iran foolish if attempted anytime soon. Israeli officials aren't impressed, however, and are responding with words of their own.
Gen. Dempsey denounced a strike on Iran in the near future as "destabilizing" and "not prudent" over the weekend while speaking to CNN in regards to America and Israel's effort to prevent Tehran from developing a nuclear warhead. Israel Prime Minister Binyamin Netanyahu has now addressed that statement himself, calling into question the US official's intentions.Netanyahu is now suggesting that the US is adopting policies that will favor Iran, and not their historical ally: Israel.Israeli newspaper Haaretz ("The Land") is reporting that PM Netanyahu had harsh words for the JCOS commander, saying that his on-the-record comments over postponing any strike are remarks that "served the Iranians.""The Iranians see there's controversy between the United States and Israel, and that the Americans object to a military act. That reduces the pressure on them," a senior Israeli official adds to the paper.Over the weekend, Gen. Dempsey discussed allegation of war against Iran, which have only escalated as of late. Over the past few months, the US has mobilized its military around Iran and has made plans for a massive missile exercise in conjunction with Israel for later this year. As Iranian/Israeli hostilities continue to amount, however, Israeli officials have repeatedly stated concern over America's reluctance to act already on Iran.American intelligence believes that, if Iran is indeed developing a nuclear weapon as rumored, they do not stand to finish their research anytime soon. In the interim, the US hopes that diplomatic talks and negotiations will thwart that research before it matures. Israel, however, appears much more concerned and has condemned the US for not acting on the offensive already. Last month, Deputy Prime Minister Moshe Yaalon explicitly called the Obama administration "hesitant" in their unwillingness to attack, which was followed by a warning only a day later by the nation's Foreign Minister Avigdor Lieberman, in which he urged the US to "move from words to deeds."Discussing whether an attack on Iran seems worthwhile for the US military right now, Gen. Dempsey told CNN on Sunday, "A strike at this time would be destabilizing and wouldn't achieve their long-term objectives."Separately, US Defense Intelligence Agency Director Lieutenant General Ronald Burgess said last week that Iran was more than likely act on the offensive anytime soon. "Iran is unlikely to initiate or intentionally provoke a conflict," Burgess told a Senate Armed Services Committee hearing, adding that an Iranian-led military action against the US would only be likely if the United States fired first.The missile drill scheduled by American and Israeli forces was originally scheduled for this spring, only to be postponed and then rescheduled for later this year. Israeli sources speaking to foreign news outlet Debka alleged that the decision to put the program on hold was a move made by Netanyahu based on ongoing worries that the US will back-out of an otherwise-coordinated joint strike on Iran.
You can share this story on social media: