US vs Iran, coming this May!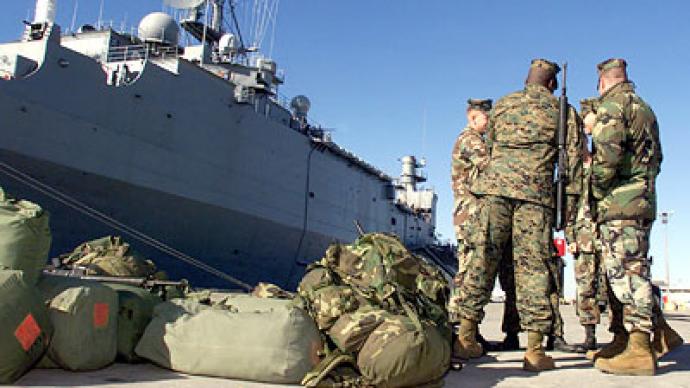 Depending on how soon military contractors can get to work on a massive US Navy "mother ship," a colossal sea vessel could be stationed outside of Iran as early as this May.
At a Department of Defense briefing at the Pentagon this weekend, authorities confirmed that the USS Ponce, a massive marine carrier currently docked off the Atlantic coast of Virginia, will undergo work to be ready for deployment towards Iran. The US military intended for the Ponce to be decommissioned in this past December, but the Navy has since announced that it is accepting applications from contractors that can help outfit the ship from an upcoming operation in the Strait of Hormuz.In a major change of pace, the USS Ponce will not be docked for much longer. Previously the boat had been stationed outside of Libya, acting as a crucial carrier used by the US Navy in the campaign against Muammar Gaddafi. But now the military is taking offers through February 3 and wants to begin converting the carrier within 10 days. Israeli news outlet Debka reports that the US hopes to have Ponce ready for deployment by May, adding an incredibly large American presence in the Middle East where the US has upped the ante more and more as of late.As tensions have worsened between the US and Iran during the last few weeks, authorities in Tehran threatened to shut-down the adjacent Strait of Hormuz, a crucial route for oil exports. The United States responded by mobilizing troops throughout the area, including stationing 15,000 troops in the neighboring nation of Kuwait, outfitting the United Arab Emirates with heavy weaponry and vowing to continue a drone surveillance program over Iran.Also on the agenda for American authorities is a massive missile exercise to be conducted in cooperation with Israel. The drill was mysteriously cancelled earlier this month, but has since been put back in motion. Now the American and Israeli missile programs will conduct a joint test in October, which some say will only turn the heat up on Tehran. When plans for the missile test — the largest ever of its kind — were revamped, critics considered it all but confirmation that an Iran-America war would be on the horizon come October. If the USS Ponce is outfitted as soon as the military hopes, however, it could be a lot sooner when a America begins its net official war: the US Navy published a no-bid contract for work on outfitting the ship and called any delays on the procedure a "national security risk."Once outfitted, the USS Ponce will be prepared to support ships that will scour the Strait of Hormuz for mines placed by Iranian fleets and also assist with US Navy SEAL operations.
You can share this story on social media: