US continues to arm Iran's neighbors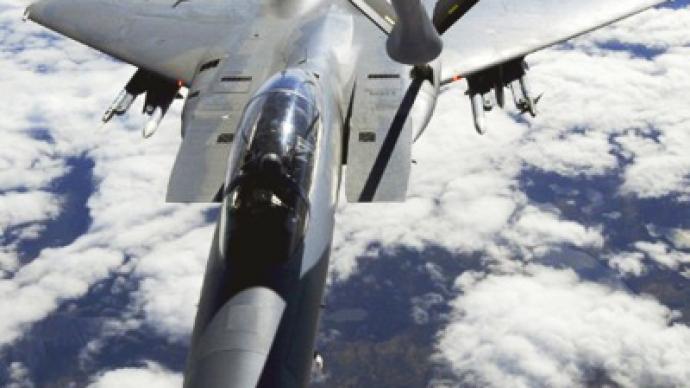 President Barack Obama must be getting awfully antsy away from the White House. Only one week into his Hawaii vacation, the commander-and-chief has consented to selling billions of dollars worth of fighter jets to Saudi Arabia.
Who says you can't enjoy a little R-and-R and prepare for a nuclear war at the same time?Under the contract confirmed by officials on Wednesday, the Obama administration has okayed a deal that will put $29.4 billion worth of F-15 war planes in the air force arsenal of Saudi Arabia, not only a powerful American ally in the Middle East but also a next door neighbor to Iran. As a war between American and Iran becomes almost impossible to avoid, installing billions in weaponry on the other side of the Persian Gulf will aid in an eventual assault on the Arab nation.Only one month ago, information was leaked that the US was sending advanced "bunker-buster" bombs to the United Arab Emirates. At the time White House press secretary Jay Carney told the media, "An Iran armed with nuclear weapons is an intolerable threat to regional and international security, and we remain determined to prevent that outcome." As tensions worsen between the nations, the addition of the F-15s in Saudi Arabia seems all too expected. The added firepower overseas comes days after US called Iran's bluff that the Middle East nation would close down the crucial oil export route, the Strait of Hormuz, if western nations employed sanctions on them. US Fifth Fleet spokeswoman Lt Rebecca Rebarich told the Associated Press this week that "Anyone who threatens to disrupt freedom of navigation in an international strait is clearly outside the community of nations: any disruption will not be tolerated." As a result, the US has deployed the 15,000 troops of its Fifth Fleet based out of Bahrain to be on the ready for regulating traffic through the strait.The new deal that comes at a cost of around $30 billion will add 84 new fighter jets to Saudi Arabia and upgrade an additional 70 or so planes. Last year, Congress agreed to a 10-year plan with Saudi Arabia that will give the country $60 billion in arms over the next decade.
You can share this story on social media: