Justice Dept. says Bank of America should be fined $2.1 billion for mortgage fraud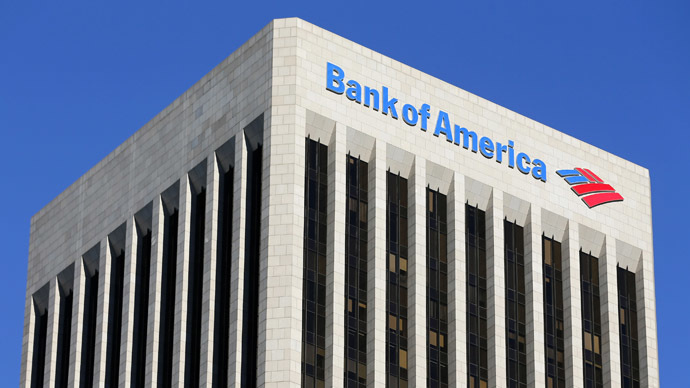 The United States government is now seeking $2.1 billion in fines from Bank of America for selling fraudulent loans that precipitated the Great Recession, more than double the amount it initially sought last year.
Back in November, the Department of Justice asked a US district judge to levy about $863 million in penalties on Bank of America after a jury found the financial giant guilty of committing fraud.
During the trial, the federal government claimed that Countrywide, purchased by Bank of America in 2008, sold shoddy home loans to US-sponsored businesses Fannie Mae and Freddie Mac. It argued that the company was focused on selling as many loans as possible without concern for quality, or whether or not recipients would be capable of making the payments necessary.
For its part, Bank of American denied any wrongdoing and criticized the penalty as excessive, saying Countrywide's sales of such loans only occurred during a short period of time before the company was acquired.
According to Reuters, the new request for $2.1 billion comes after a judge asked both the government and Bank of America for a different way of assessing the penalty that should be filed. Previously, the $863 million requested by the Justice Department was based on losses suffered by Fannie Mae and Freddie Mac.
Now, US District Judge Jed Rakoff is looking to calculate a penalty based on the gains Countrywide experienced rather than the losses others incurred.
While evidence from the trial suggested Countrywide earned roughly $165 million selling defective securities, US attorneys believe the penalty should be based on gross revenue rather than profit.
As noted by Reuters, a court filing on Wednesday found the government pushing the judge to deliver the maximum penalty in order to "punish defendants for their culpability and bad faith, and to deter financial institutions and their executives who would engage in similar fraudulent mortgage schemes."
In addition to the fines sought from Bank of America, the US is also seeking $1.1 million from Rebecca Mairone, a former Countrywide executive who was also found liable for fraud. She has also denied any wrongdoing.
While the US continues its legal battle with Bank of America, it settled a similar case with JPMorgan Chase in November. The company agreed to pay $13 billion in fines for its role in selling fraudulent loans – $6 billion to reimburse investors, $4 billion in mortgage relief programs to homeowners and a $2 billion fine to end civil cases in five US states.
You can share this story on social media: