Shameplates: E-tags on license plates let DMV show your 'suspended' or 'uninsured' status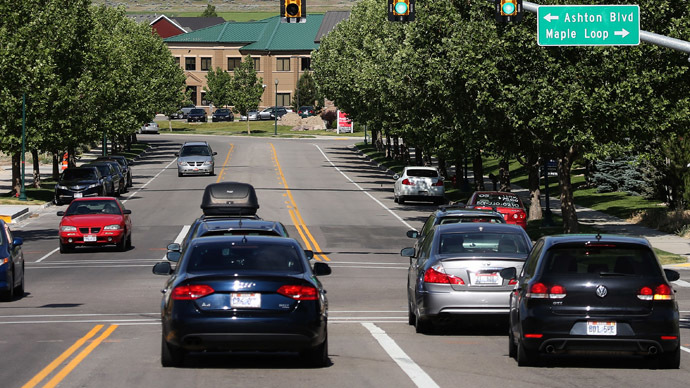 South Carolina may give authorities direct access to anyone's vehicle license plate as it considers switching to new electronic plates called e-tags. New technology allows the DMV to post messages across the license plates anywhere, anytime.
The Department of Motor Vehicles (DMV) will have complete access to all e-tags to flag vehicles with expired insurance or suspended license plates and write messages such as "Suspended", "Uninsured", "Amber Alert", or "Stolen" across license plates.
Authorities say the switch would improve highway safety by enabling the DMV to attract attention to cars violating road rules. 
"We put that wording on the license plate across the top and, depending on how the state wants it, it could be in bright red, and we can actually flash the plate, have it flashing as it goes down the road," co-founder of Compliance Innovations, which created the e-tags, Brian Bannister told WSPA 7.
This kind of technology is the first of its kind added the other co-founder of the company David Findlay.
"It's not an LCD or an LED. What it's made of is electronic paper. It's a new technology that allows you to hold the image with no power whatsoever for over 10 years. The only time it needs power is when you're changing the status or the image on the plate."
The plates will get their power from car vibrations and solar power collected through a transparent film placed over the e-tag.
A majority of Americans (50.9 per cent) are against the implementation of electronic license plates, according to a US auto blog poll.
Compliance Innovations assures that the DMV will not be able track vehicles' locations and will need three different court orders (to the DMV, cellular carrier and the company itself) to locate a vehicle.
At this point the project is at an early stage. Compliance Innovations still needs to reduce the size of the e-tag to make it fit into the license plate slot, and to lower production costs. Currently it costs over $100 to produce an e-tag, in comparison to $3 and $7 price tag to make a metal license plate.
Bannister and Findlay are proposing a pilot project, where the e-tags will be installed on all state-owned vehicles. Their argument is that the state will save $150 million a year once they have the ability to identify all cars that go unnoticed with expired tags or insurance.
California considered a similar project, but with pop-up advertisements in 2010, while Arizona conducted a 2008 cost-benefit study in 2008 comparing electronic license plates to standard ones. It did not go ahead with the project.