Self-driving 'robot' cars to take on California asphalt
Published time: 3 Sep, 2012 00:20
Edited time: 3 Sep, 2012 04:20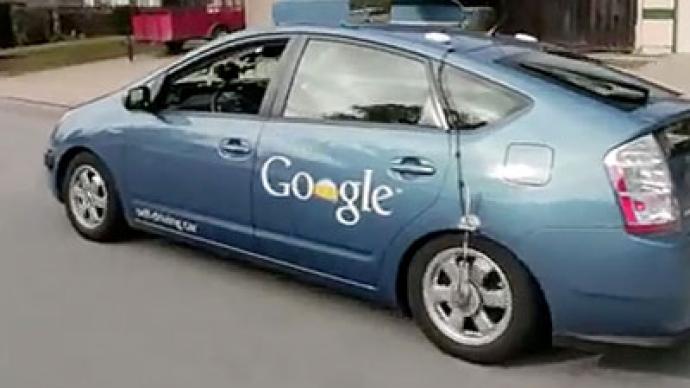 The California state legislature has passed a bill approving Google's self-driving cars this week, allowing autonomous vehicles to be operated on state roads – including highways.
­The bill, known as SB 1298, allows these "robot" cars to be tested on California's roads and outlines rules and standards for the driverless vehicles. The bill passed the State Assembly, with a vote of 74-2, and the Senate unanimously.
The bill allows the self-driving cars onto the state's roads for testing purposes only. Drivers must have the option to manually take control of the vehicle.
The new legislation will also require the Department of Motor Vehicles (DMV) to form and adopt new standards for the innovative vehicles by 2015. If signed into law by the governor, California will be the second state to allow the driverless cars on its roads. Nevada set up its own standards in February, and requires that the cars keep red license plates and actual humans sitting in them.
Google has been testing its autonomous cars for years. The corporation has already logged over 300,000 miles without an accident while the car was controlled solely by its computer. Google recently announced that its self-driving cars could be ready for public use in less than 10 years. Ford recently argued consumers can expect to see such cars on the market by 2017.
"It sounds space age, but it's almost here," California State Senator Alex Padilla, who authored the bill, said, as quoted by the San Jose Mercury News. "If we can reduce the number of accidents, that alone is worth doing this bill."
Google has only had one accident involving its autonomous vehicles – but it had been controlled by a human at the time of the accident.

"Through the use of computers, sensors and other systems, an autonomous vehicle is capable of analyzing the driving environment more quickly and operating the vehicle more safely," Padilla said when he introduced SB 1298. "Autonomous vehicles have the potential to significantly reduce traffic fatalities and improve safety on our roads and highways."
Two years ago, Google successfully tested its driverless cars on the famous Lombard Street hill, which is one of America's steepest and curviest streets.
But Google is not the only company working on the new technology. BMW and Audi are also developing self-driving car prototypes, and Cadillac said it hopes to include a "Super Cruise" function that allows its vehicles to automatically steer, break and center themselves in a lane.
While the cars may in many cases increase driving safety, there are also long-standing worries that the vehicle computer systems could crash and cause accidents. Some people have expressed concern over who would be responsible for autonomous car crashes – the manufacturer or the owner?
These issues are likely to be at the center of the debate as Google continues to test its vehicles in California and Nevada.
"It's not far away that many of us will be driving autonomous vehicles," said Dan Gage of the Alliance of Automobile Manufacturers. "We're moving in that direction. That fully autonomous car of the future is not that far away."