Obama vs Romney: Vote with your gum and coffee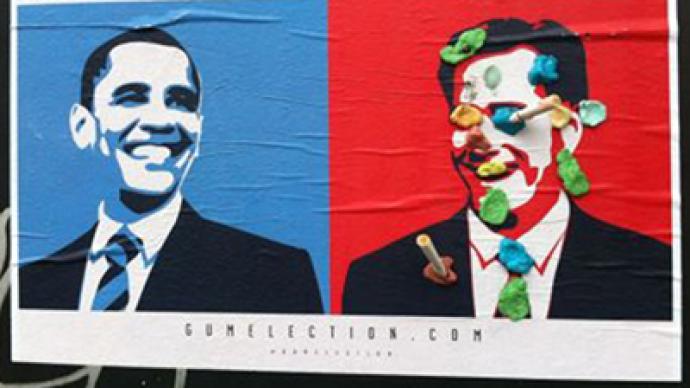 While many look to official government statistics and Gallup polls to see where their candidate stands in the 2012 US election race, others are turning to more irreverent ways, like a cup of coffee or a piece of gum, to get their voice heard.
Like any campaign, time is of the essence.While many look to statisticians like Gallup or track the rolling poll results of respected media outlets, there are plenty who are either too busy or simply can't be bothered to keep up with the latest standings.So, some ingenious methods of getting voters more involved have come to fruition over the past few years.And it's lucky for Romney these unorthodox polling methods are not official – in most cases, Obama is commanding a healthy lead.One such method is the '7-Election,' created by convenience store chain 7-Eleven in 2000.The 7-Election pits the Democratic and Republican presidential candidates against each other in the form of a coffee cup popularity contest. The chain invites you to "get your steaming hot cup of democracy," and that "every gulp counts!"
It couldn't be more unscientific, but judging by past election results it's proven to be quite accurate.In the 2000 7-Election, the George W. Bush coffee cup outsold Al Gore's by just 1 percentage point;The 2004 7-Election results tracked identically with published national election results: 51 percent for George W. Bush and 49 percent for John Kerry.Another humorous – albeit negative – poll is the Gum Elections.Created for the 2008 US election, it offered gum chewers the chance to pick the candidate they thought 'sucked most' by sticking chewed-up wads of gum on the candidate they disliked.
The campaign was so successful, it was brought back to let people vote on mobile phone providers in 2011.However, the poll is basically asking people to vote for the candidate they dislike the least (or most), which isn't the best way to motivate the public to vote. If it doesn't galvanize the masses to the polling booths on November 4, it at least helps keep the streets cleaner.If the current Gum Election standings are to be taken seriously, it seems Obama has a bubble that Romney can't burst.
You can share this story on social media: