Obama vs Romney on foreign policy: Which one is which again?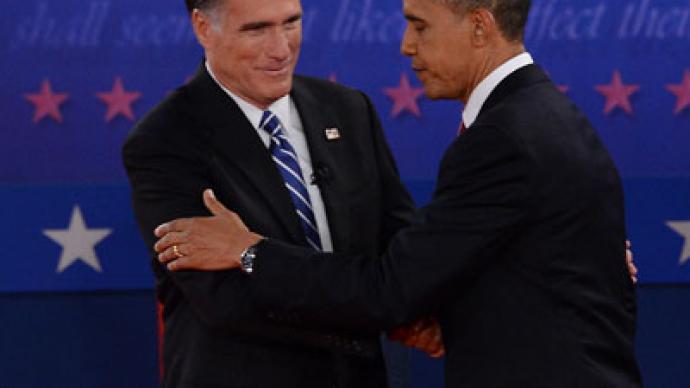 President Barack Obama and challenger Mitt Romney are neck-and-neck in the polls on the eve of the last debate. When the questions turn to foreign policy, though, will either candidate be able to prove they're a real alternative to the other?
During Monday evening's final face-off between the two major-party candidates, questions will be composed of international issues relating directly to America's foreign policies. Polling stats aside, though, neither candidate can quite claim to have an edge over the other when it comes to calling shots overseas. Both the incumbent and his Republican Party challenger will attempt to discredit the other's stance on certain foreign powers before a crowd in Boca Raton, Florida Monday night, but in actuality neither can claim they offer any sort of opinion much more different than their opponent.On the issue of Iran and its rumored plan to procure nuclear weapons, Gov. Romney has repeatedly attacked the Obama administration for their alleged lack of aggression in pursing an end to any Iranian endeavors that would jeopardize the security of the Middle East, particularly America's time-tested allies the Israelis. In recent weeks, the Romney angle has been to undermine the president's attempts at negotiations — or lack thereof — labeling the current presidency as one that has done nothing but allow Iran to escalate its nuclear program. Obama "could have gotten crippling sanctions against Iran," but failed to do so thus far during his presidency, Romney remarked earlier this year. On Monday, Romney advisor Dan Senor told NBC News of the challenger that, "I think a lot of Americans would probably agree he'd be the better guy to be at the negotiating table on behalf of the United States than President Obama, given that we are four years closer today to Iran getting a nuclear weapon than we were when President Obama took over." Romney, Senor said, "will not rule out" any tools that could be used to persuade Iran to finally come to the table with America and negotiate over their nuclear program. But while Pres. Obama has also acknowledged that he has not said no to using any degree of action overseas to push Iran towards relinquishing any nukes, the White House has in fact informed the United Nations that a military maneuver to reinforce the increasingly crippling sanctions imposed on Iran could very well be necessary — the same stance Gov. Romney wants to use to differentiate himself from his challenger.In terms of the Arab Spring, again both candidates have attempted to distance themselves from their opponent's ideas regarding the wave of anti-government protests toppling long-time rulers overseas, but on paper their politics offers no drastic differences. Gov. Romney's campaign agenda has adamantly involved attacking Pres. Obama's allegedly soft approach in handling the uprising in Libya, where the GOP opponent says he wouldn't have taken the president's strategy of "leading from behind." On the contrary, Pres. Obama has celebrated his administration's tactics in aiding the uprising, whereas the US assisted rebel forces were able to top Libya leader Muammar Gaddafi while never once relying on American boots on the ground.But while disagreeing on the tactics, both candidates never questioned American involvement in the bloody Libyan civil war itself. The fact that a foreign super-power decided to take a side in a conflict dividing Libya by tribal, racial and sectarian lines never troubled neither of the candidates. Documented multiple atrocities committed by the rebels are still taboo in public statements, divisions between rivaling militias fighting for control over land and resources are being overlooked and close ties of some "freedom fighters" with al-Qaeda had to become a topic of public foreign policy discussions only after the murder of the American ambassador to Libya in Benghazi.Yet again, the topic of the Syrian uprising will certainly be brought up by either candidate during the final presidential debate, although both Pres. Obama and Gov. Romney have remained largely silent on the subject thus far. Again, the more hawkish Romney has made it relatively clear that his administration would ensure a more hardcore, hands-on approach to assisting anti-government rebels in that Arab nation, although he has in actuality done little to explain how he'd accomplish as much or where he'd draw the line. What he has done, however, has picked apart Pres. Obama's efforts, again lampooning his attempts at intervention as "leading from behind." As in many cases, though, the comparable inept Gov. Romney is allowed leeway in attacking the president's foreign policy because he lacks any personal examples that could allow the incumbent to fire back. "Obama has a record, and Romney doesn't, so he can just cherry-pick the arguments," Jon Alterman, a former State Department policy planner now at the Center for Strategic and International Studies, tells Reuters. "But that doesn't mean any of it will stick."It's clear that the Obama White House has already assisted Syrian rebels with money and non-lethal ammunition under the alleged plan to oust the country's leader, Bashar al-Assad. Pres. Obama has previously claimed that Assad "lost all legitimacy with his people and the international community" and has endorsed the anti-government revolution taking place, but as of late America's support has been hardly celebrated as it becomes increasingly clear that the assistance being sent overseas is more likely to fall into the hands of dangerous jihadists than the American-aligned rebels that would be more apt to comply with Mr. Obama's pleads.Despite these attempts, the Romney campaign has called out the White House for failing to follow through with aiding the uprising, even though their intentions are being considered loud and clear. Although the Obama administration has indeed endorsed rebel forces in Syria and elsewhere, Deputy National Security Advisor Benjamin Rhodes tells the New York Times, "we made it clear that it is not our place to dictate the outcomes in any given country."On the part of the Republican Party, Romney adviser Eliot Cohen tells the paper, "If you don't even try to shape events, then for sure you are going to get a bad outcome."When Monday's debate turns to the topic to China as expected, both candidates will once again attempt to label their opponent as misinformed and ill-prepared on issues relating to America's Far East rival. Although both Pres. Obama and Gov. Romney vow to be tough on China to keep any more American jobs from going overseas, neither candidate is likely to actually introduce any program that could provide for as much. High levels of unemployment in the US will force both Gov. Romney and Pres. Obama to address the deindustrialization of the United States and the subsequent shipping of jobs overseas, and both candidates are certain to say that they each have their ideas for keeping America's economy afloat. And while Romney will attempt to label China a currency manipulator and attack Obama's reluctance to sanction exports from Asia, the president is expected to yet again link his opponent's interests with Chinese businesses, once more making both candidates essentially one in the same. While Romney has gone after the current president for allegedly not being tough enough on China, again the challenger has not confirmed exactly how he would offer any suggestions that would separate his own administration from the Obama White House. "The fierce presidential race seems to have morphed into a contest in which the one who plays tougher on China has better chances to win," Xinhua News Agency addressed in a recent commentary piece.The results of a NBC News/Wall Street Journal poll released over the weekend put both Pres. Obama and Gov. Romney at identical placement among the American public, with a similar survey release days earlier by CNN/ORC International favoring the GOP challenger by a single percentage point. According to a Quinnipiac University/CBS News poll published Monday, the president could be as much as five points ahead of his opponent."This is going to be a very close race and we've said that consistently," senior Obama campaign strategist David Axelrod said to NBC's Meet the Press this weekend, a statement that's not surprising given that both candidates offer the country very little to choose between, especially in terms of foreign policy. For those interested in hearing answers from presidential hopefuls with ideas that being ignored by the political establishment, be sure to tune in to RT America on Tuesday evening to catch Gov. Gary Johnson, Jill Stein, Virgil Goode and Rocky Anderson weigh-in on these issues and more during a live debate between America's major third-party candidates.
You can share this story on social media: