For desperate Romney, debates could be last chance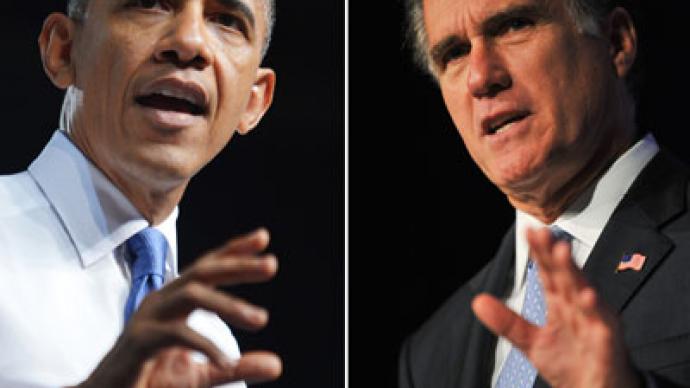 US President Barack Obama and rival Mitt Romney will square off on live TV for the first of three debates Wednesday night, and as the polls continue to favor the incumbent, these upcoming arguments might be the GOP challenger's last chance.
Mr. Romney, the former governor of Massachusetts and co-founder of Bain Capital, remained towards the top of the Republican Party's race for a nominee in the months leading up to his nomination in August at the GOP National Convention in Florida. Less than two months before Americans will line up at polling places to cast a ballot in the 2012 presidential election, though, Romney is quickly realizing that a bi-partisan race is a different kind of animal. Gov. Romney is currently behind President Obama in both mainstream polls and politically-divided key states alike, leaving Wednesday night's debate and the two that follow perhaps his final opportunity to earn the American people's endorsement. In a series of tracking polls conducted through the weekend by Reuters/Ipsos, President Obama leads Gov. Romney by 7-points in questions about both jobs creation and economic management, an accomplishment of especial significance given that the Republican candidate's campaign throughout 2012 has largely emphasized his career in the private sector. Elsewhere, the president leads Romney on issues relating to taxes and Social Security by the double-digits, Reuters reports. Any gaffes during Wednesday's debate could easily cost Romney his chances at recouping his losses so soon before Election Day, and analysts on both the left and right agree that the governor will have to be on his A-game starting immediately if he wants to convince Americans he can run the country."I think he's got to have a pretty convincing win," David Yepsen, director of the Paul Simon Public Policy Institute at Southern Illinois University, tells Reuters. "He's had a bad few weeks and he needs to change the narrative of the campaign." Ron Bonjean, a Republican strategist, suggests more Americans might be willing to open up to the president's opponent if they can see past a liberal smoke screen that has left Romney unable to penetrate left-leaning yet undecided voters. Even that number is dwindling fast, though, with an Associated Press-GfK poll released last month revealing that only 7 percent of likely voters haven't decided on a candidate."Americans who are thinking about voting for Romney need to hear from him about how he would change the country for the better," Bonjean says. "They're leaning toward the devil they know, which is President Obama. Romney has to knock it out of the park by showing the contrast between himself and Obama." During Wednesday's debate in Denver, Colorado, Romney will have 90 minutes to square off against President Obama, and the broadcast is expected to reach upwards of 60 million Americans. Undoubtedly, it will be maybe the biggest chance yet for Romney to turn around a sinking campaign. The only question is, can he? Some say it's possible, but are unsure of exactly how probable."I don't think Romney can change the entire trajectory of the campaign at the debate," Democratic strategist Jamal Simmons tells CBS. "But he can jump-start that change.""The stakes are enormous for Mitt Romney," Steve Schmidt, a Republican strategist who advised 2008 GOP presidential nominee John McCain, tells CBS. "He goes into the debate behind, after a difficult summer, a failed convention, and a series of self-inflicted wounds in September. The hour is growing short to make up ground and come from behind in the swing states where he needs to win if he wants to become elected president."Gov. Romney and Pres. Obama will debate twice more before Election Night: once on October 16 and again on October 22.
You can share this story on social media: